The table below indicates which item types Eduphoria supports in Aware.
Interactive Item Types: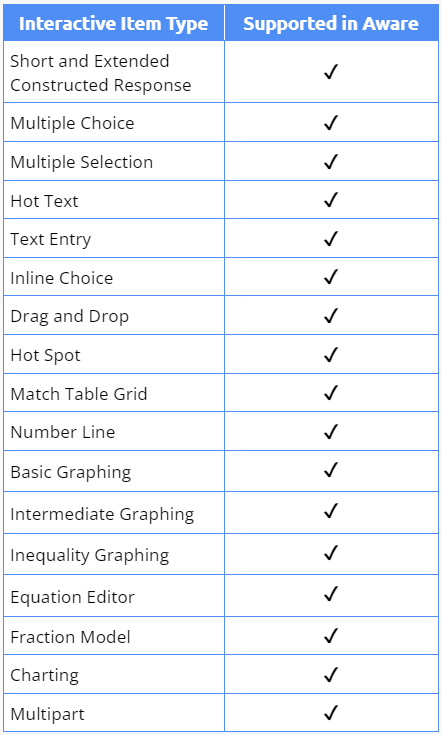 Through Aware, we also support item banks from various partners through seamless integration. Items from item banks vary in availability based on content, grade level, and subject. For more information, reference the available item bank lists.
In addition to the item information listed above, we have partnered with Desmos to integrate their Graphing Calculator and Scientific Calculator into our online testing platform. Users can choose from among four different calculators for online assessments.
Desmos and related trademarks are property of Desmos Studio PBC.
New Item Types Announced for STAAR: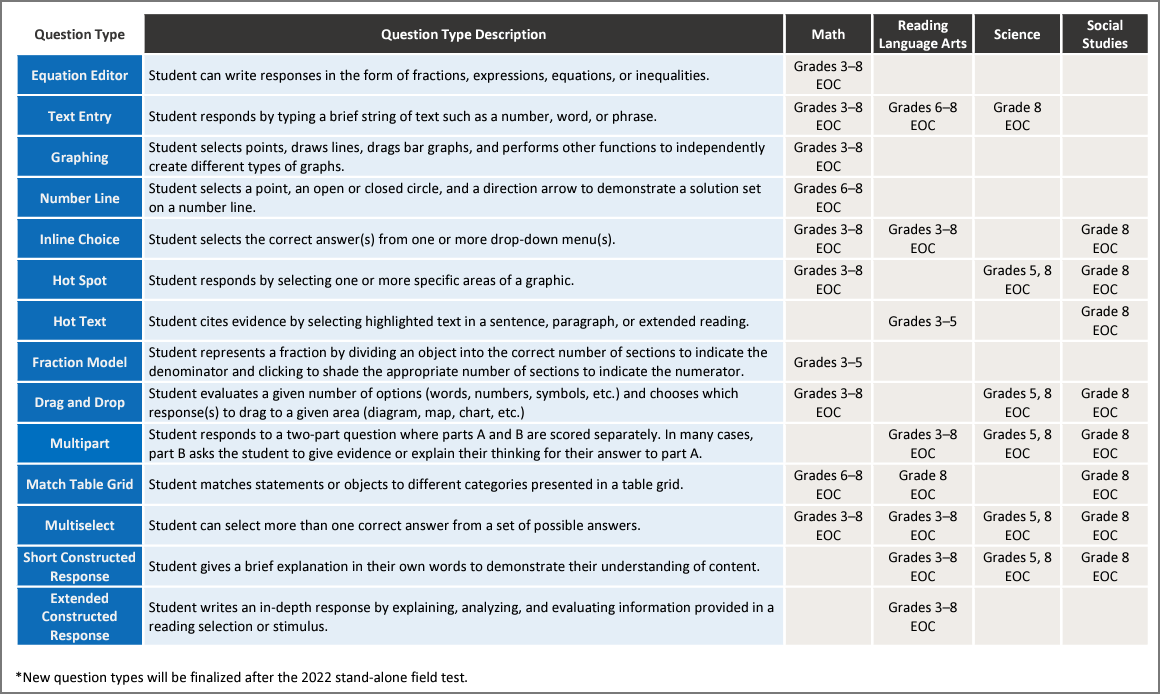 View a PDF version of the table
Interactive Item Types in Aware
Eduphoria's engineers are hard at work building support for interactive item types to help educators prepare for the TEA's state testing plans. Interactive Item Type questions will constitute 25% or more of STAAR-tested items across subjects and grade levels starting in the 2022-2023 school year.
Test authors can now create, edit, and import from item banks various new interaction options, which also include basic scoring and data analysis capabilities. We have turned our attention to implementing advanced scoring options and data analysis as well as enhancing current item types.
For instance, the current function of Drag and Drop items matches the anticipated use of Drag and Drop items on STAAR assessments with the exception of cloning answer choices. Eduphoria's product team is researching future capabilities to support Drag and Drop items. This includes options to clone answer choices and utilize available enhanced Drag and Drop items from supported item banks. The timeline for release is during Spring 2023.
View our Interactive Item Types YouTube playlist to learn more about each item type.
The TEA Resources:
We will share updates here and through email as we progress through these developments.
For additional questions regarding Interactive Item Types in Aware, please contact support at support@eduphoria.net.