The TEKS Scaffold Report from lead4ward displays vertically-aligned student expectations for STAAR-assessed subjects.
Because these reports align all the way back to Kindergarten learning standards, it is necessary for secondary campuses to establish Feeder Patterns to determine which campuses' data to include for campus-level reports.
Feeder patterns must be managed at the district level by an Aware manager. Feeder patterns only need to be set up one time (and edited as needed in the future).
To manage feeder patterns, access school management in the Management application. Select the school to be managed and check all the feeder schools that apply.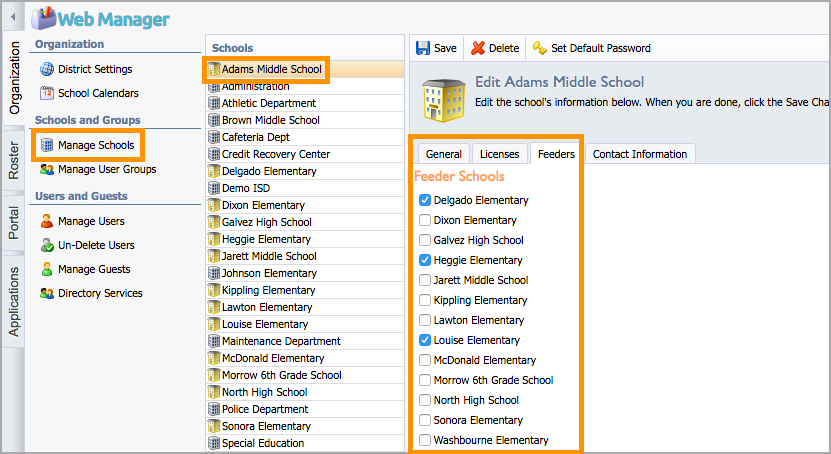 Please note:
Elementary campuses that do not have feeder campuses or that do not have STAAR-tested grade levels do NOT need any Feeder Schools to be checked. A K-5 campus, for example, would not need this feature to be managed.
Very few districts have "pure" feeder patterns. More often, a campus will have some Feeder Schools that promote only some of their students to it. It is a DISTRICT DECISION to define what constitutes a Feeder School.
A campus can be selected as a Feeder School for multiple other campuses. For example, a 6-8 middle school might feed about 60% of its students to one high school and 40% to another; it can be checked as a Feeder School for both high schools.
At this time, Feeder Pattern management ONLY affects the lead4ward TEKS Scaffold Report.