The Administration tab is where test authors assign students to an assessment and determine when and how the system collects data. The Online tab is where test authors can establish online testing settings for the assessment.
Assigning Students to an Assessment
Assigning students begins on the Administration tab under Students,where you can align which campus(es) will be participating in the assessment.
The grade level will default to the test's grade level and filter to only those campuses with students in that grade level. Either select campuses manually from the list or click Select All.
If the campus you are searching for is not present, change the grade level from the drop-down menu.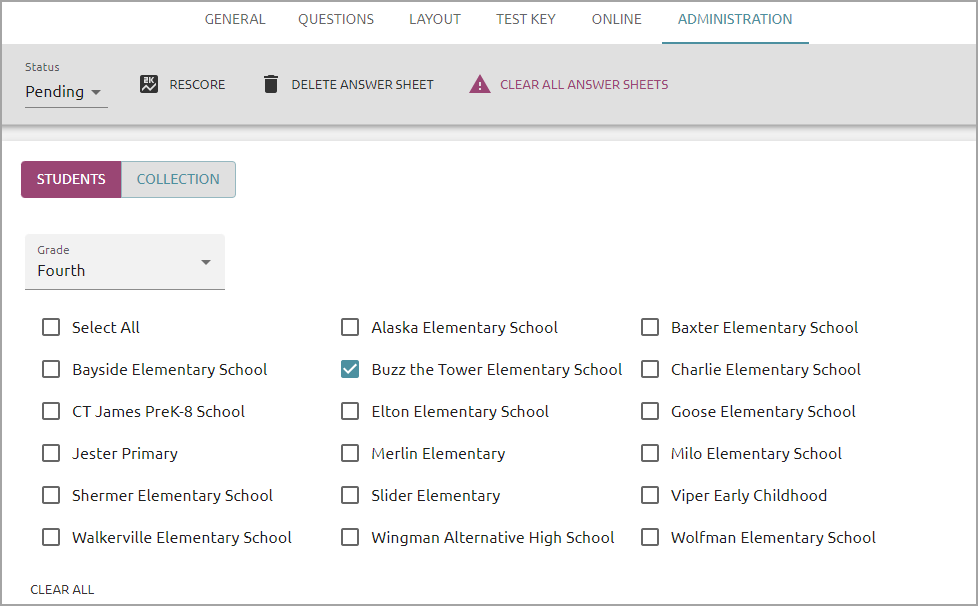 You can assign a student to a test via the following options:
Students in Selected Courses
Select the appropriate roster courses for the test. This is the most widely used option because it allows teachers to print their own answer documents by their roster classes. This is also the best choice for allowing online testing.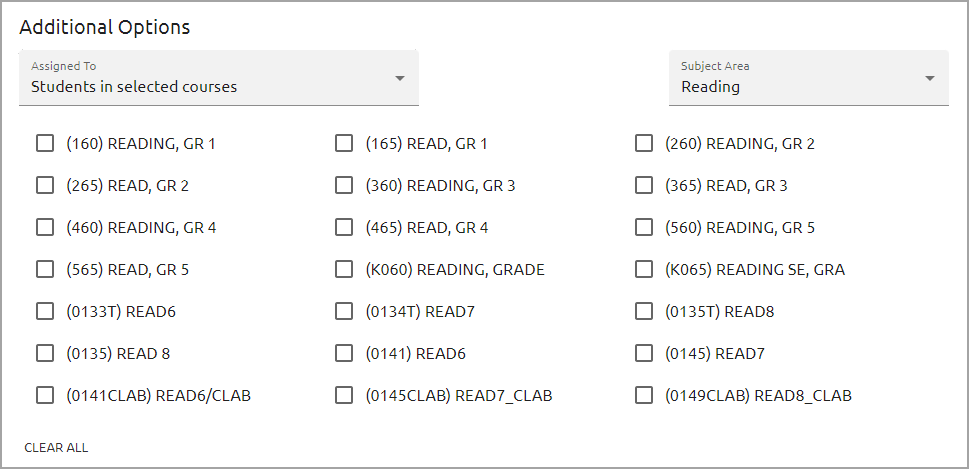 Students by Their Homeroom/Advisor Teachers
For each campus, select the homeroom/advisor teachers for the test. This option isn't used often because districts rarely import their advisor teachers.

All Students in the Test's Grade Level
Select All students in the test's grade level if all students for an entire grade will take the test and answer documents do not need to be organized by courses or teachers. This option is generally used for "mock" test situations.
Note: Only the test administrator can print answer documents by grade level. This option is not broken up by class and cannot be used for online testing.

All Students at Selected Campuses
For each campus you selected, all students for each campus will be assigned to the test. It's uncommon for users to choose this option because tests are rarely made for multiple grade levels.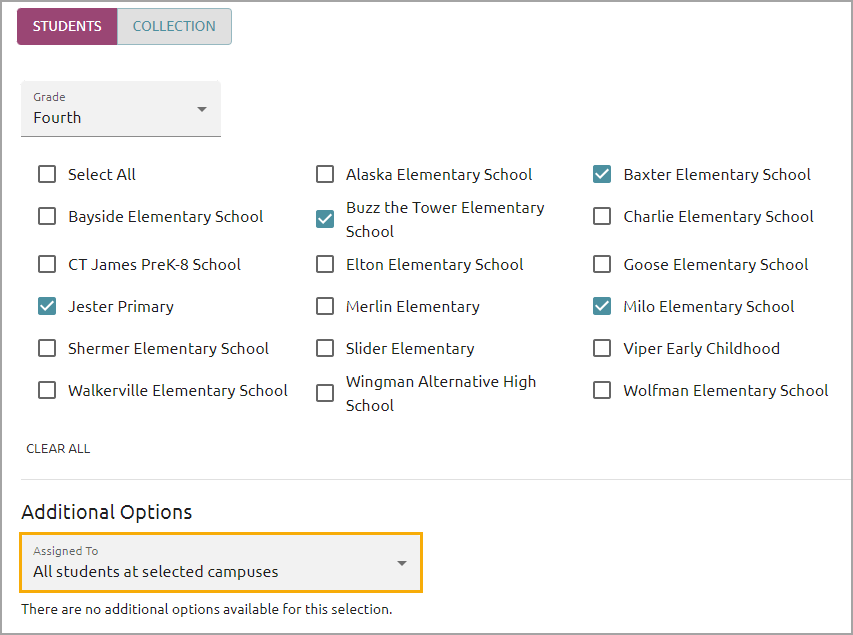 Students for Selected Teachers for Printing
For each campus, select the teacher associated with the test. If you choose this option, benchmark printers and administrators will be unable to print answer documents for the teacher. Only the teacher will be able to print the answer documents.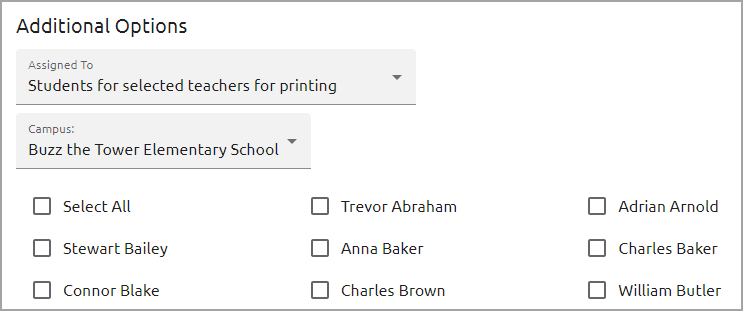 Student Filtering
Student filtering limits the printing of answer documents by program status, form, monitor group, or grade level.
Students can meet either criterion selected if multiple filters are applied across the same category. For example, if At Risk and Section 504 are selected, any students who are At Risk or Section 504 will be included. However, if Third Grade is also selected, only Third Grade At Risk or Third Grade Section 504 students will be included.
Collection Settings
The Collection tab is used to determine when and how the system will administer the test, along with the methods used to collect the students' responses.
Available Dates
The start and end dates determine when the test is available for teachers. The dates do not affect scanning.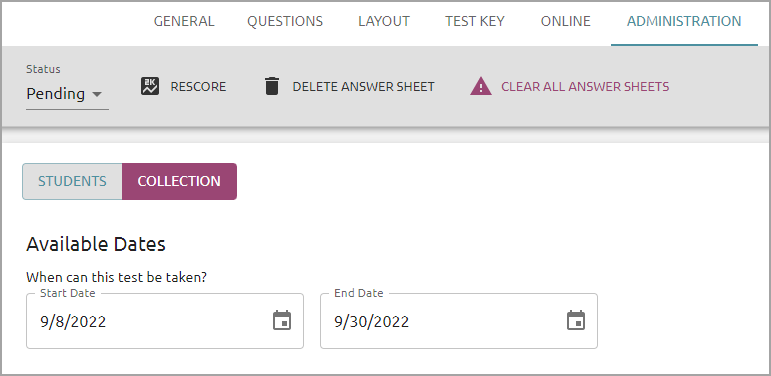 Print Settings
If there aren't any interactive item types on the assessment, you can switch on the Enable plain paper testing setting.
You can then check the boxes for either or both of the following options:
Teachers Allowed to Print Answer Documents

Teachers Allowed to Print Test Booklet
By enabling plain paper testing, administrators will always be allowed to print.
Under Preview Settings, you can turn on Enable teachers to preview online test.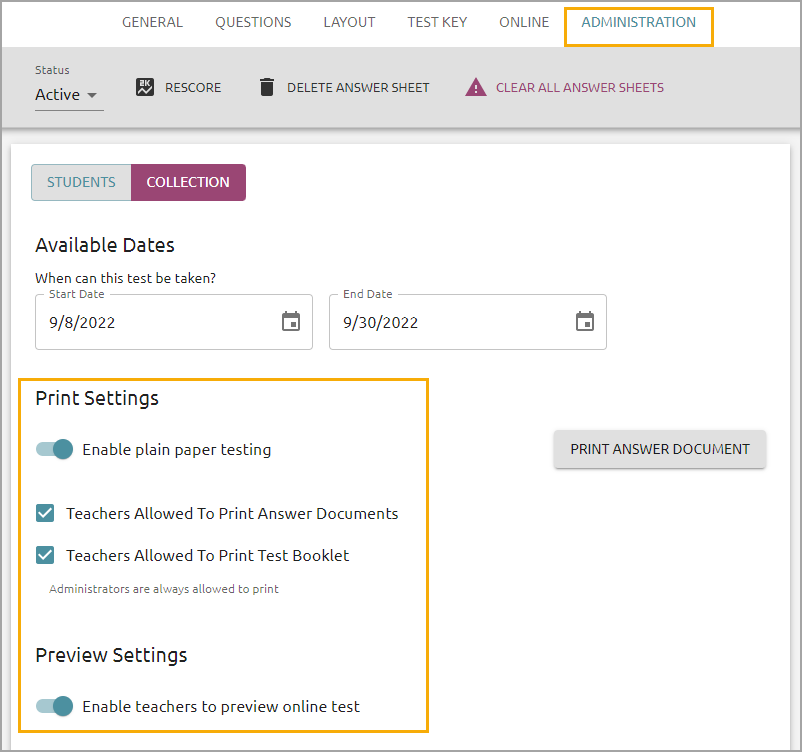 To print the answer documents as a testing administrator, click the Print Answer Documents button. While the test is in a Pending state, this button will be Print Sample.
The wizard will display the campuses, courses, teachers, and sections that will print. Deselect any of these to narrow down which answer documents you will print. By default, answer documents will be sorted alphabetically by teacher, course, and section. Select the Print students alphabetically option for easier searchability of students.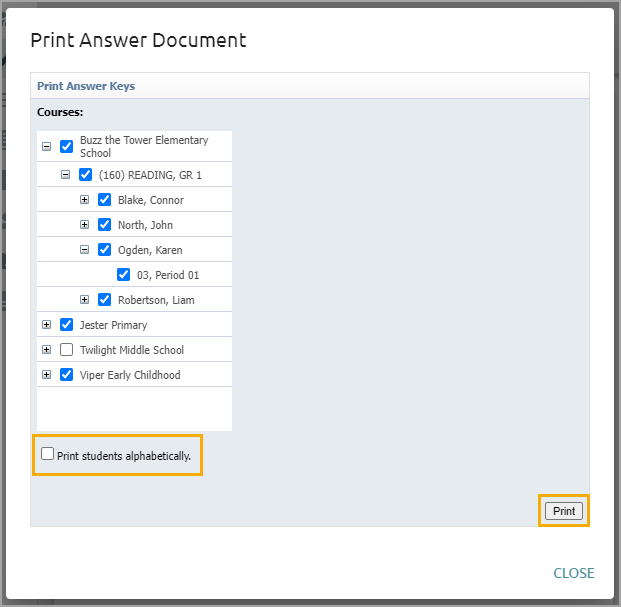 General Settings
The Questions teachers can answer and score setting controls how teachers can submit and score answers for their students on assessments.
There are two options that the test administrator can choose from when administering a test:
Constructed Response and Text Entry questions only

All questions
Once an answer document is scanned, the Constructed Response and Text Entry questions only option will show all answers grayed out for the teacher except for constructed response and text entry. If the student wrote a short answer response on the answer document, the teacher can view a digital image of the student's answer on the test entry screen as they score the document. If a scoring guide has been included on the test, the teacher can also view the scoring guide while scoring the test.
The All questions option will allow teachers to answer all questions at any time before or after scanning.

Test authors can import student test scores from another system if the file is formatted correctly as a CSV file.
Under Upload Data Files, select Upload to open a wizard where you can choose a CSV file from your computer.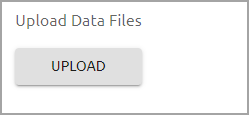 You can upload a data file that includes the students' local IDs, followed by their responses to each question. You can also check the box to Automatically create test Entries if desired. When finished, click Upload Data File.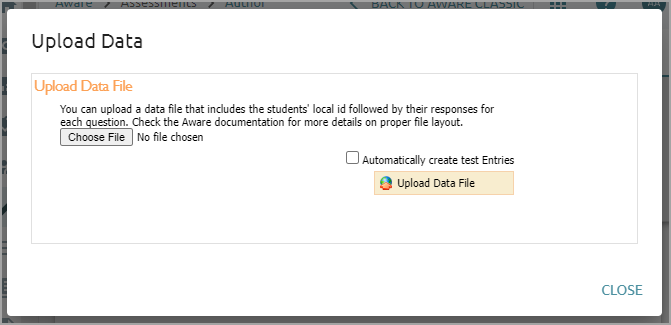 The Remove All Audio and Video option allows for easy removal of multimedia resources if those files prevent test booklets from being printed. This button will be disabled when answer sheets are generated. Remove audio and video before printing answer sheets.
Rescore a Test
You can click Rescore if any of the following conditions are met for an assessment:
The Performance Levels need to be changed.

The test key needs to be corrected.

Question weighting needs to be changed.

The question needs to be associated with a different learning standard.
Delete or Clear All Answer Sheets
There are two ways to delete an answer sheet or clear all answer sheets.
The first is by student. Click Delete Answer Sheet if a student's answer sheet was accidentally scanned and the score needs to be removed. Select the student from the list, and choose Remove. If a student's answer document is removed, the document cannot be rescanned because the code at the bottom of the answer document becomes invalid.
The second is by clearing all answer sheets. If the assessment needs to be changed, such as by adding or removing a question, you can select Clear All Answer Sheets. This will delete all student scores associated with the assessment, which you can now modify.
Note:

Use caution when deleting or clearing all answer sheets. If you select either of these options, all previously-printed answer sheets will become invalid, and you will need to reprint new answer sheets.
Online Testing Settings
Navigate to the Online tab if students will take a test online.
To Enable online testing, select Test Settings, and toggle on the option under Online Testing Settings.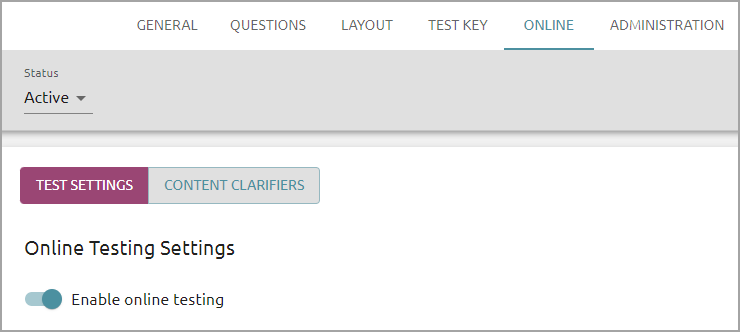 Online Testing Proctor Controls
Select one of the following Online Testing Proctor Controls:
Teachers

Administrators Only
If you select Teachers, the teacher will need to click Start Online Testing once students are ready to begin taking the test. The teacher will also need to click Stop Online Testing once students are finished testing.
If you select Administrators Only, a test administrator must click Start Online Testing once students are ready to take the test. The test administrator will also need to click Stop Online Testing once students are finished testing.
Locate your district's Student Login URL, which students will use to access the Student Testing Portal. We recommend that districts save this as a bookmark for students if possible. Students will log in with their local Student ID number and password.
There are three ways a system administrator or teacher can set a student password:
By accessing the

General

tab in the student's profile;

By importing via a CSV file from the

Roster

tab in

Management

; and

By clicking

Set Default Password

under

Manage Schools

in

Management

as a system administrator, which will give all students for that school the same password.

Test Style
Under Test Style, you can choose Interactive or Bubble Sheet Only. Remember that selecting Bubble Sheet Only will prevent you from adding interactive settings to the assessment.
If you select Interactive, you can also turn on the following settings:
Text-to-Speech offers three options:

Student chooses the language spoken

English language (pronunciation accent)

Spanish language (pronunciation accent)

The Dictionary setting also offers three options:

No dictionary enabled

English dictionary

Spanish dictionary
You can select Enable LockDown Browser as well as Student Must Submit Test to Exit LockDown Browser for either test style.

Content Clarifiers
Under the Online tab, click on Content Clarifiers to manage the list of content clarifiers you created for the assessment.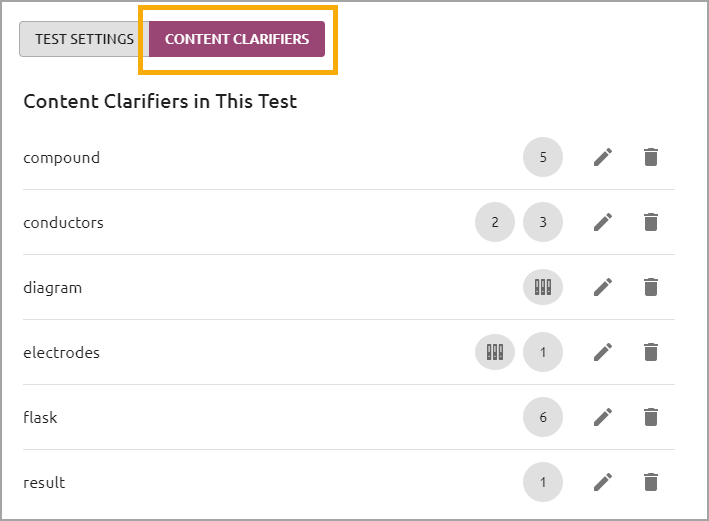 Before Implementing Online Testing
Eduphoria strongly recommends that districts click Preview Online Testing on the Online tab during assessment creation before administering an online test. In addition, keep in mind the following points:
The preferred browser for online testing is Chrome.
Eduphoria officially supports online testing using desktops, laptops, iPads, and Chromebooks.
Test authors should ensure they test on the same type of computer (Mac, PC, Chromebook, etc.) with the same operating system(iOS, Windows, etc.)using the most updated browser version your students will use during online testing.
Test authors should confirm that all images, resources, and multimedia files are functioning correctly.