Your district may have provided you a basic template for your lesson planner. This is the text that appears automatically in each entry where you type your lesson plans. You can customize this text for your lesson planner, save changes and then set this as your default entry text to be in your planner from this day forward.
Customize Your Planner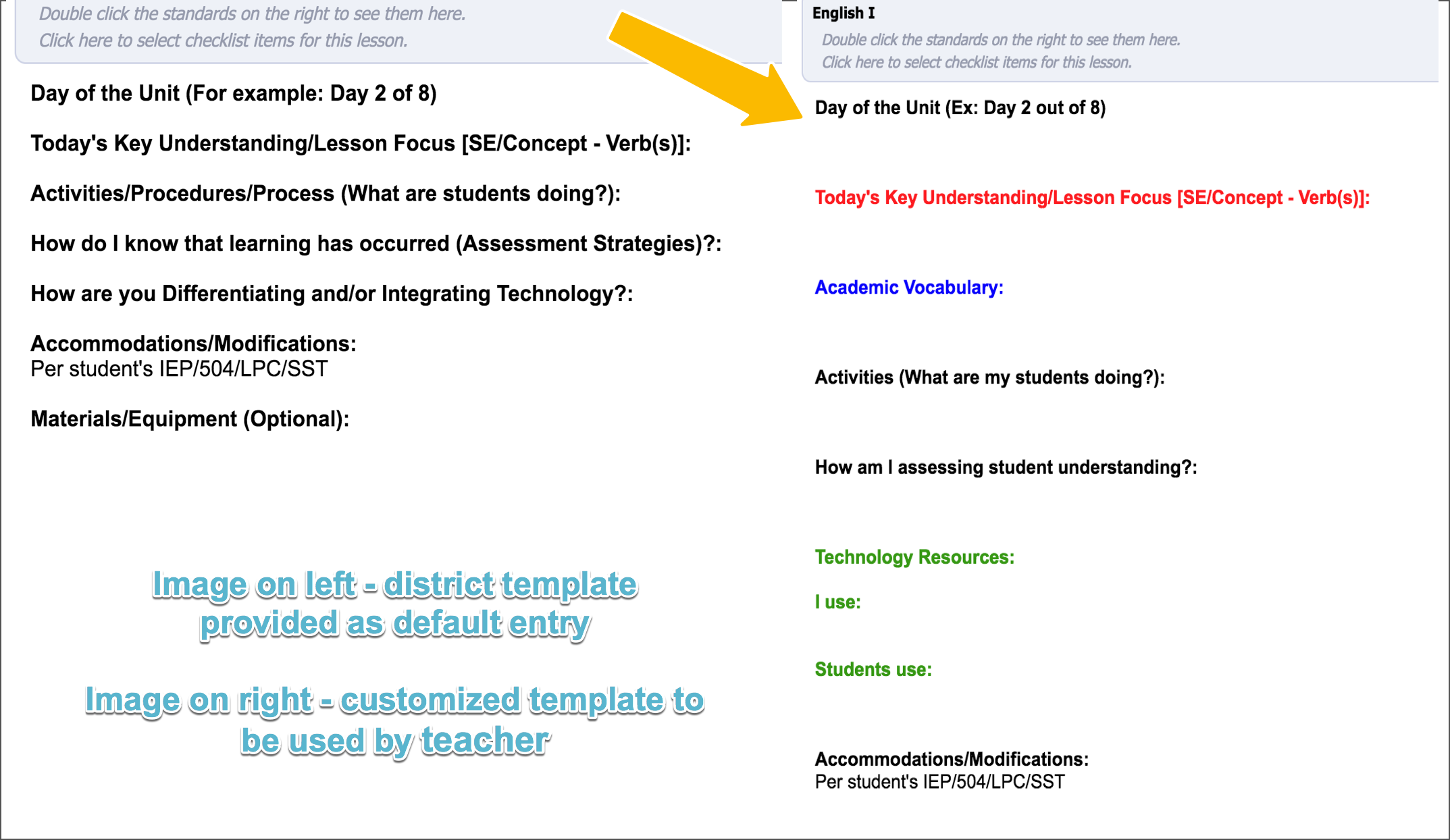 Customize Your Lesson Planner Entry:
Click the entry area to edit the text
Use the menu tools for spacing, changing text size, color, indention, etc. as you need.
Click the Save button on the menu bar.
Click the More Lesson Plan options button on the Entry Toolbar
Select Set as Default Text for Entry
For every new day in your planner, the new template will appear only for that entry.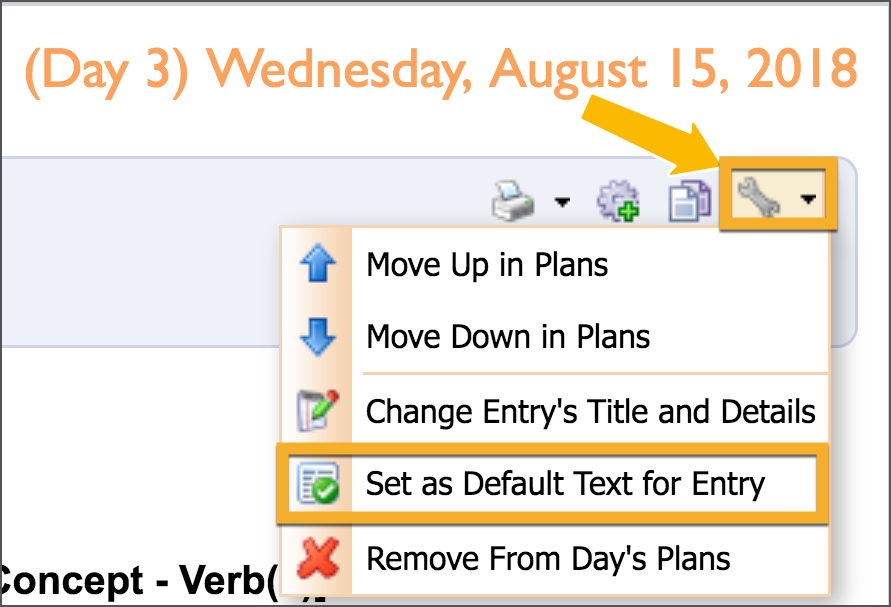 If you have days already marked bold on your calendar and they are not recognizing the new Default Text Entry you created, it is because those days are stamped with the old entry template. Below is information to help you with setting those days to reflect the new template.
Stamping a Day
Don't forget when you click on a day on the calendar two things happen:
Stamps your current lesson plan schedule
Turns the date bold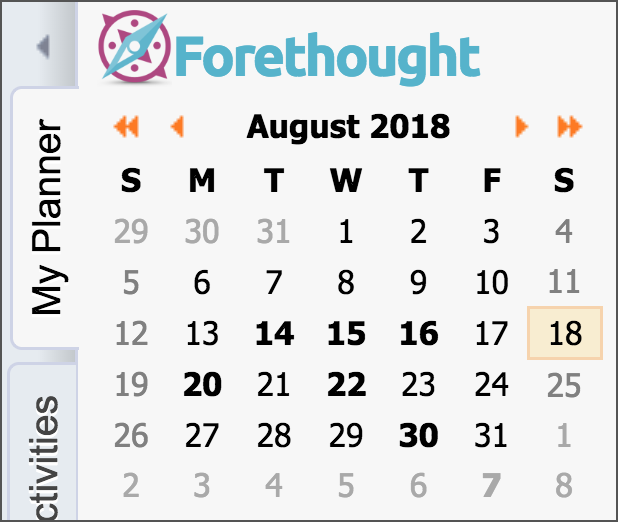 After you edit your schedule or entry, you might ask yourself, "Why didn't my Lesson Plans change?". Two answers for you:
Forethought does not replace your plans without your permission. Any day you click on turns bold.
You have to remove the stamped schedule (your old schedule) from days you have already stamped to replace it with your new schedule.
Remove an Old Template
Select the date on your planner calendar
Click the Change Today's Schedule button on the menu bar
Select the option Delete Today's Plans
This will remove the old schedule, any plans you have set on that day, and stamp it with your new entry and schedule. Repeat this for other days that are bold if you want the new schedule stamped.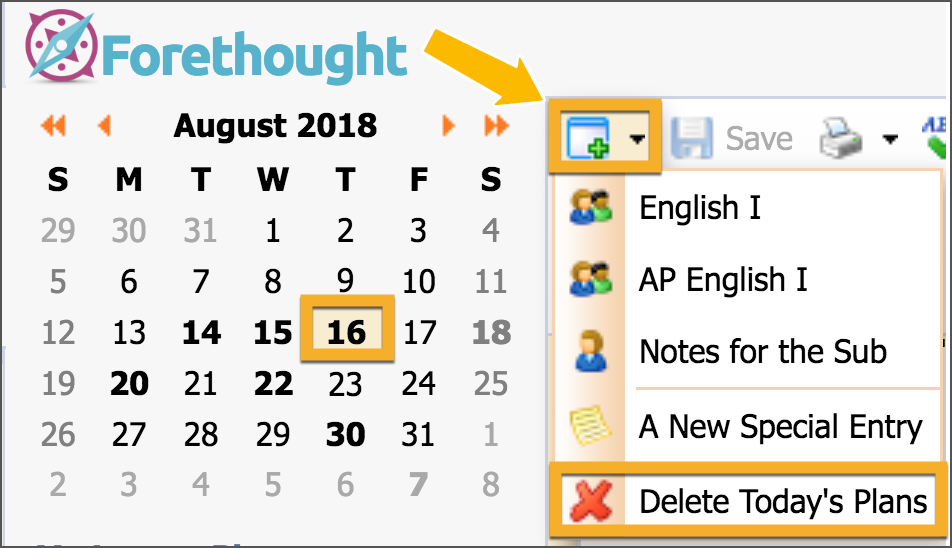 Be Careful! Don't delete days that have plans already.
*Note: If you have already stamped a day and added lessons to that day, you can move the lessons to a future date that has been pre-stamped to preserve the lessons. Use copy/paste to move lessons to a future dates. Then click Delete Today's Plans for the date that needs an updated schedule. After the new schedule is stamped, you can move your lessons back to the correct date. Moving lessons requires that both dates contain the same courses in the schedule.
Best Practice Tips:
Don't go back and delete days that already have good lesson plans – let them be.
Try not to click ahead too far in the future.
You have to do this for every entry you want to edit.
| | |
| --- | --- |
| | View a video demonstration on how to customize your lesson planner template and set it as the default moving forward. |
| | View a video explanation on how stamping dates work and why an updated template may not be showing. |
| | View a video demonstration on how to remove an old template entry to add the new entry template. |