If the course includes more than one session or meeting time (like a book study or department meetings), click the + icon to add additional dates, times, and locations. Dates, times, locations, default publication dates, and substitutes all apply to additional sessions. The new session date will default to one week after the previous session. The course manager can edit the date and times.
Note: When attendees register for this course, they will automatically be registered for all sessions. Attendance is then taken during each session depending on how many absences are allowed throughout the entire course.
Select a Course
Click the Setup tab
Select Sessions & Locations from the Course Description section
Click the + button to add additional dates, times and locations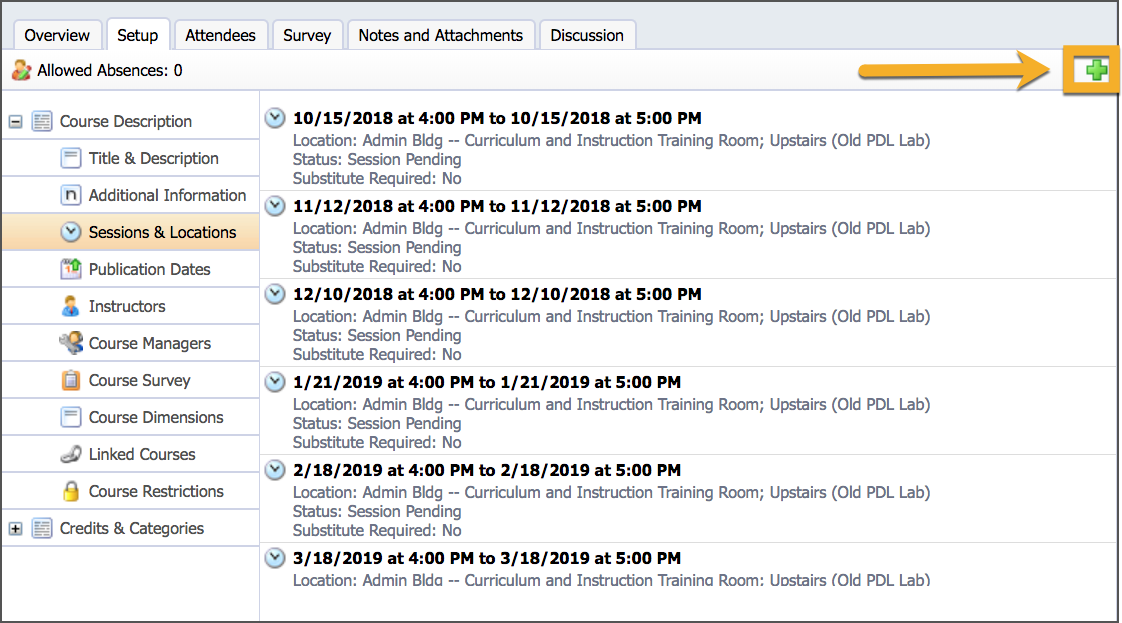 Allowed Absences
If the course has multiple sessions, the default option does not allow any absences. This means attendees must attend ALL sessions to automatically earn credit for the course once it completes.
However, in order to allow attendees to earn full credit for attending some of the sessions, click the Allowed Absences button, edit the number of sessions allowed to miss while still earning full credit, and click OK. In the example below, there are a total of 4 sessions, and attendees need to be present for 3 out of 4 sessions to receive full credit.