The Information section of the Aware Local Test Analytics tool contains basic logistical data related to the test and its administration.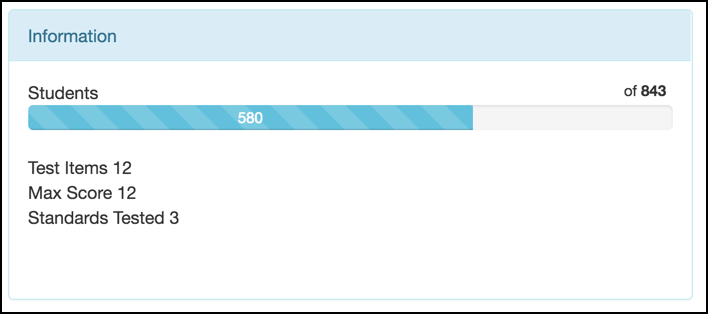 Students
This bar represents the total number of students that can take a test (based off the test's administration setup). It becomes shaded as tests are scored.
Knowing the number of students that have taken a test is important for data analysis. For example, if a test has not been scored by many of the students that will take it, it might be too soon to try and draw any conclusions about performance. Additionally, if a test was only taken by a small number of students, this will alter the denominator for many ratios used in test analysis.
Test Items and Max Score
These two numbers are related. The default score value of numerical response and selected response items is 1 raw score point. Constructed response items have a score range created by the test author. However, every item can have a multiplier (item weight), so some items contribute more raw score points to a test's Max Score than others.
The Max Score should be considered in data analysis, especially if it is a very low number. A test with only five multiple-choice items worth one point apiece may not be analyzed in the same way that a 42-point test would.
Standards Tested
This number represents the total number of learning standards included in the test.
Knowing the content included on a test can assist in conversations about a test's reliability. For example, if a test is meant to be about the causes of the American Revolution, the number of standards tested should be considerably lower than a test at the end of a semester meant to cover multiple curriculum units. This number is meant as a conversation starter about making sure an assessment includes appropriate content.