Goal Details Spreadsheet Export
The Goal Details Spreadsheet Export allows you to export all goal statements and their status into a spreadsheet. It is available inside the Appraisal Reports section. This report pulls information based on the creation date (not the start date) of the goal.
Note: This report does not gather information from any reflection documents being used as a goal; only professional or student growth goals will be included.
Recommendations:
Run this report shortly after goals are due to see student growth data from student portfolios.
Running the Report
Open Strive.
Select Reports.
Select Appraisal Reports.
Select the Goals Details Spreadsheet Export.
Within the report screen, you may:
Select the type of Goals you want to export. You may include Student Growth Goal portfolio data if you wish.
Set the filter to include the creation and end dates. Note: You may want to extend the creation date to include May when some staff create goals after their summative conference.
Select the Campus from the drop-down.
Click Submit Report to download the spreadsheet export.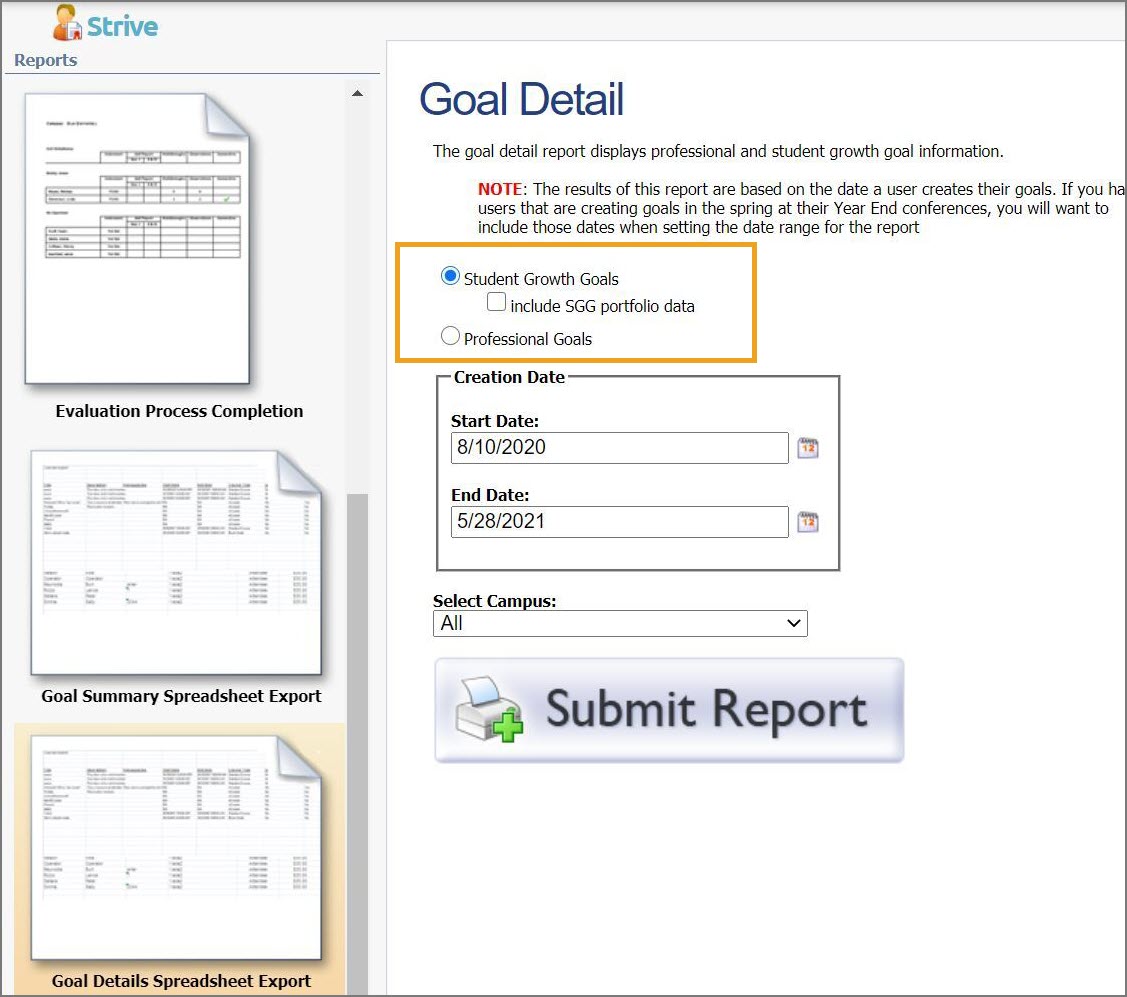 A spreadsheet export will be downloaded for your access.

Data collected will provide the following:
Staff Name (separated into first and last)
Employee ID
Campus Name
Framework Name
Appraisee Type
Appraiser Name (separated into first and last)
Goal Statement - Yes, the actual goal statement is included!
Status of the Goal
Target Completion Date:
Success Criteria - Yes, the success criteria statements are included!
Goal Type
Standards & Tags - All TAGGED framework dimensions are included!
Submitted Date
Approved Date
Archived Date
Portfolio Name
Portfolio Description
Student count
Demographics

Special Ed, GT, At risk, LEP
Race, ethnicity: Hispanic, White, American Indian/Alaskan Native, Asian, African American, Native Hawaiian/Pacific Islander, Two or more races, Not provided

Overall student growth (these labels might be different depending on your district's custom preferences)

Did not grow
Grew as expected
Exceeded expected growth

Percentage of Students that Met or Exceeded Expected Growth
Learn more about the reports available in Strive.