The updated T-PESS framework takes effect in August of 2021. This new framework and the T-SCESS framework for counselors are now available and ready for you to use. In this article, we will review the steps to create your new T-PESS evaluation process. Although the steps in this article are specific to Principals, you will also follow the same steps for Assistant Principals. Each step completed in this process is located in Strive > Settings > Appraisal.
Step 1: Retire your old T-PESS Appraisee type
It is important to note that an Appraisee type should not be deleted from your system. Deleting an Appraisee type will result in the deletion of all data connected to that Appraisee type. Instead, retire an old or unused Appraisee type by renaming. For example, adding "z_old_" to the beginning of the title will make that type drop to the bottom of the list and indicate that it should not be used.
Step 2: Create new TPESS appraisee type for principals
On the bottom left of the screen, select New Appraisee Type and follow the wizard to create the new T-PESS Principal appraisee type.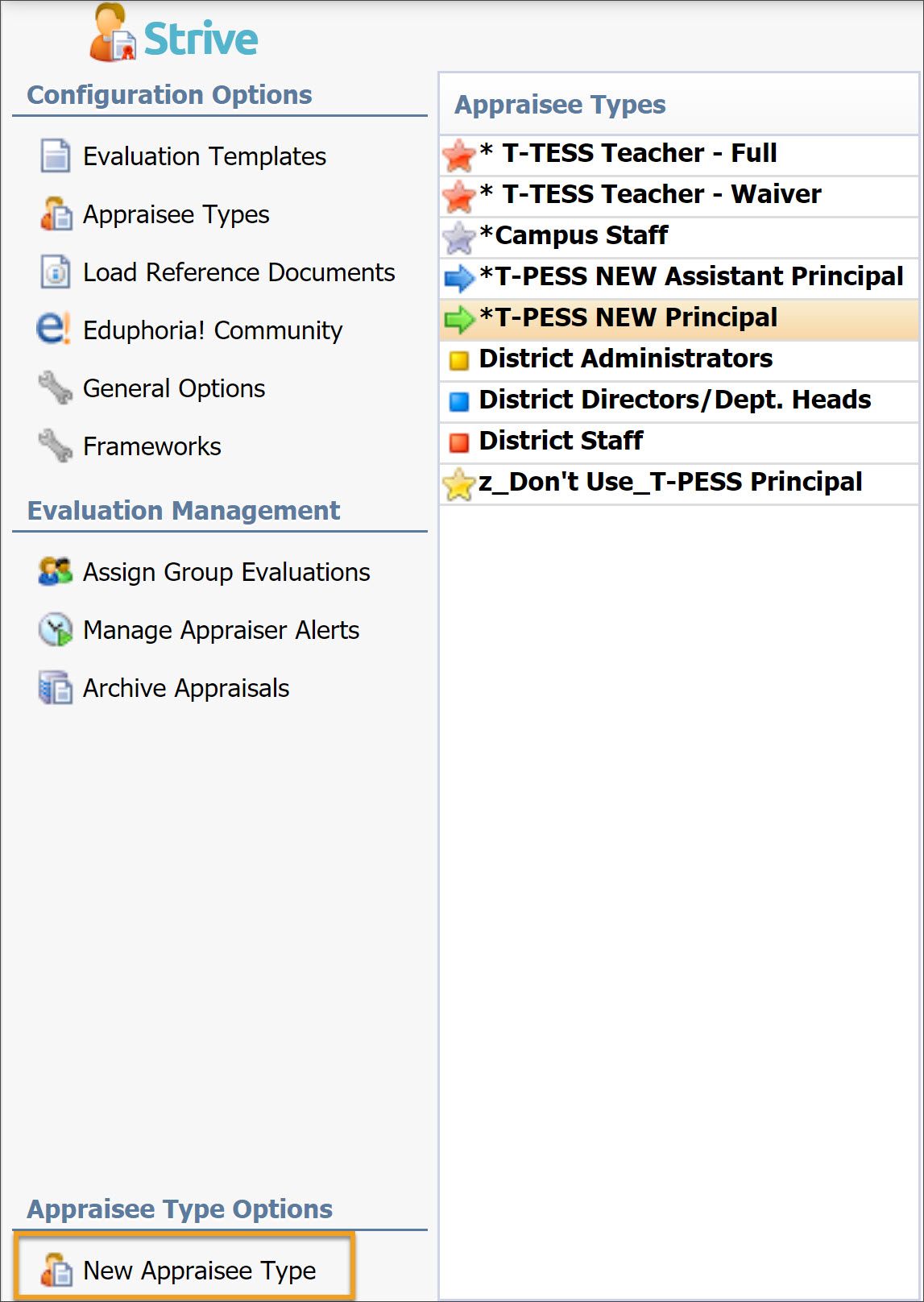 Step 3: Select framework and set up your evaluation process
Use the drop-down menu to select "T-PESS NEW" framework.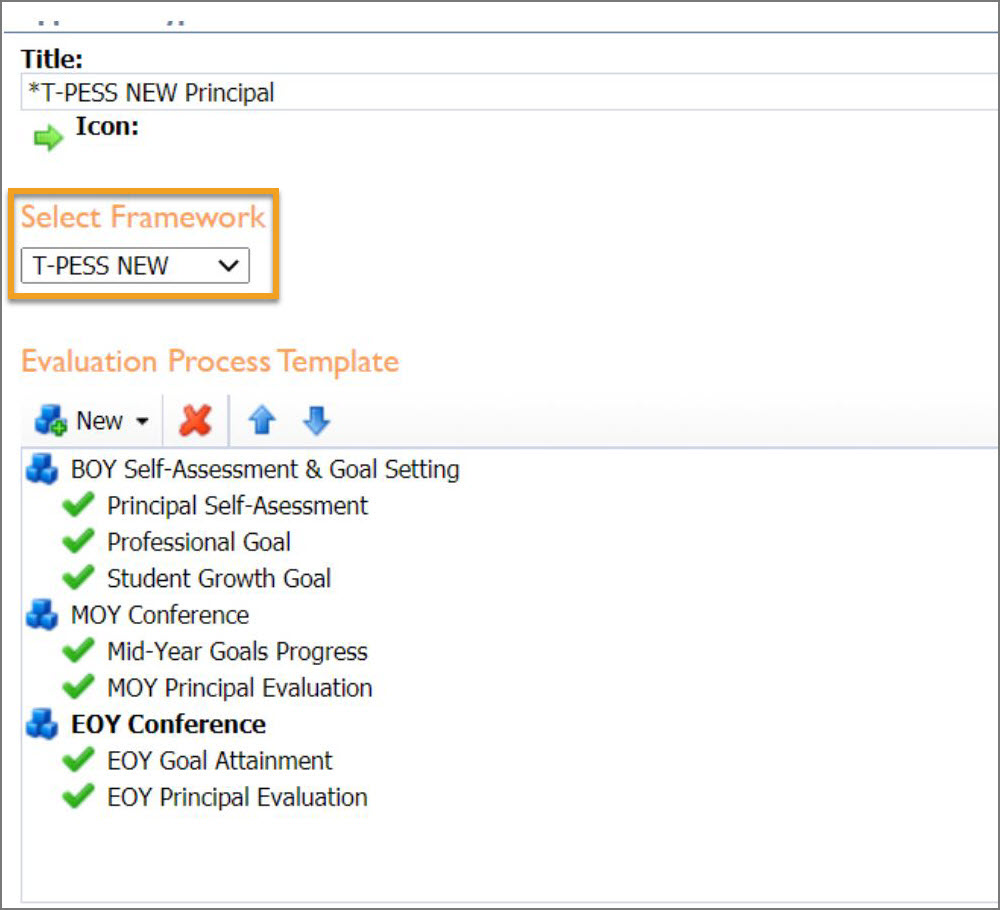 Next, create your evaluation process using the steps and tasks. The steps above are a suggested process. Districts may customize their process. Each task requires a task type. All task types are documents, except for Professional and Student Growth Goals. For T-PESS, both goals have a task type of Professional Goals, even the Student Growth Goal. Student Growth Goal has a task type of Professional Goal because Student Growth Goals are tied to TEKS standards, which are not necessary for creating school administrator goals.
Step 4: Gather your templates
The Eduphoria Community provides several templates for districts to select to use for the T-PESS process. The list below shows the title of each template and its folder location in the Eduphoria Community.
While this article shows the principal setup specifically, this list includes all the documents for both Principals and Assistant Principals so you will have all the documents required when you repeat the process for the Assistant Principal setup.
Folder

Template Title

Reflections

**T-PESS NEW - Assistant Principal - BOY Self-Assessment

**T-PESS NEW - Principal - BOY Self-Assessment

Observations

**T-PESS NEW - Assistant Principal - MOY Evaluation

**T-PESS NEW - Principal - MOY Evaluation

Summative

**T-PESS NEW - Assistant Principal - EOY Evaluation

**T-PESS NEW - Principal - EOY Evaluation

Evaluations

**T-PESS NEW - EOY Goals Attainment (for Principals & APs)

**T-PESS NEW - MOY Goal Progress (for Principals & APs)
Before entering the Eduphoria Community, use the green refresh icon to ensure you have the most current templates. Select the appropriate template and import the template.
Step 5: Add each template to task type
Within the evaluation process, you will select each task and assign a task type. With the exception of the Professional Goal and Student Goal, you will choose the document taks type and attach the appropriate template to the task.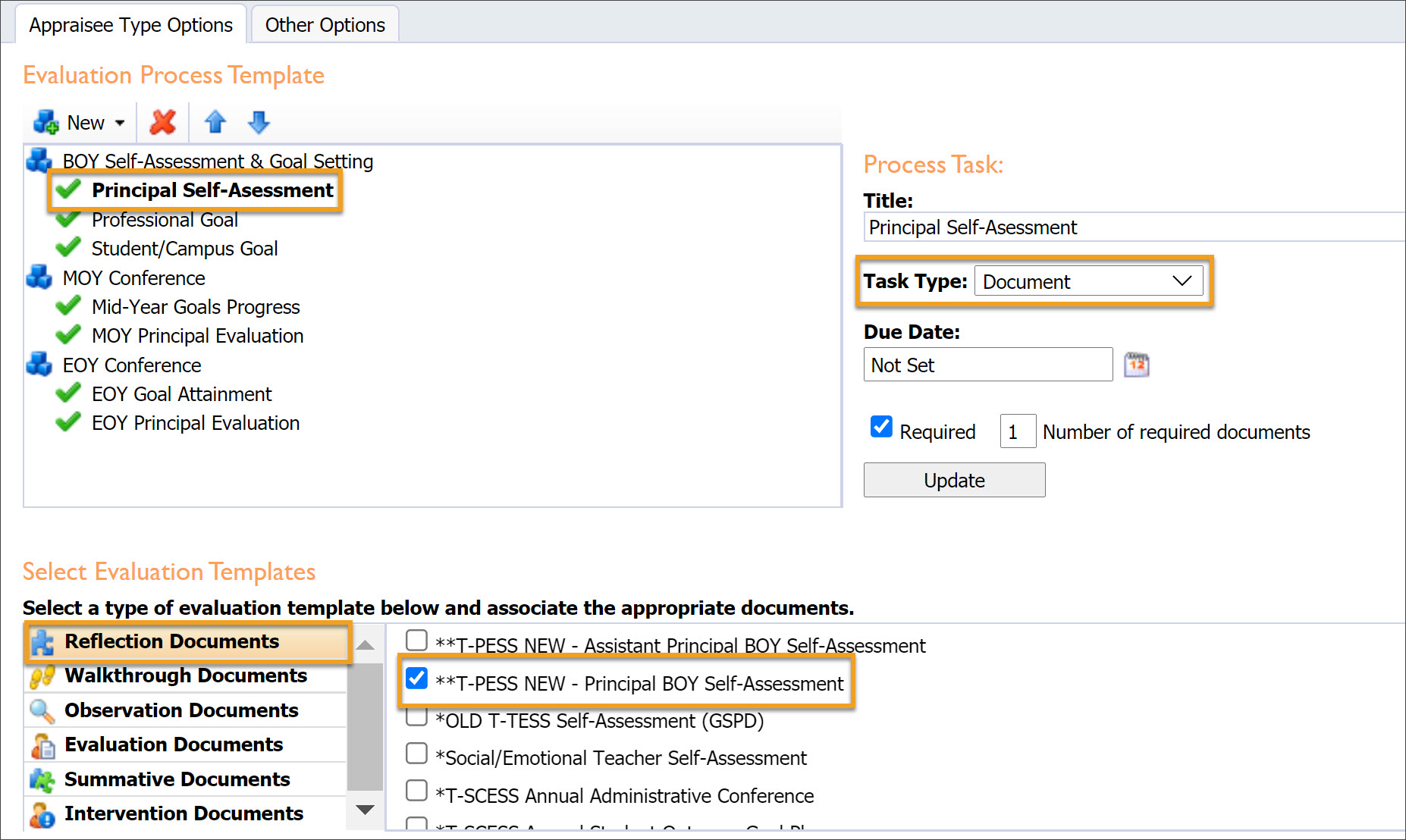 Below shows the task and the appropriate template for each. After attaching each template to its task type, select update.


Principal Self Assessment >Reflection >**T-PESS NEW - Principal - BOY Self-Assessment
Mid Year Goals Progress >Evaluation >**T-PESS NEW - MOY Goals Progress
MOY Principal Evaluation > Observation >**T-PESS NEW - Principal - MOY Evaluation
EOY Goal Attainment> Evaluation>**T-PESS NEW - EOY Goals Attainment
EOY Principal Evaluation> Summative>**T-PESS NEW - Principal - EOY Evaluation
Step 6: Set the task type for the goals
For the Professional Goal and the Student/Campus Goal, you will not attach a template. Instead, for each of those tasks you will select Professional Goal as the task type.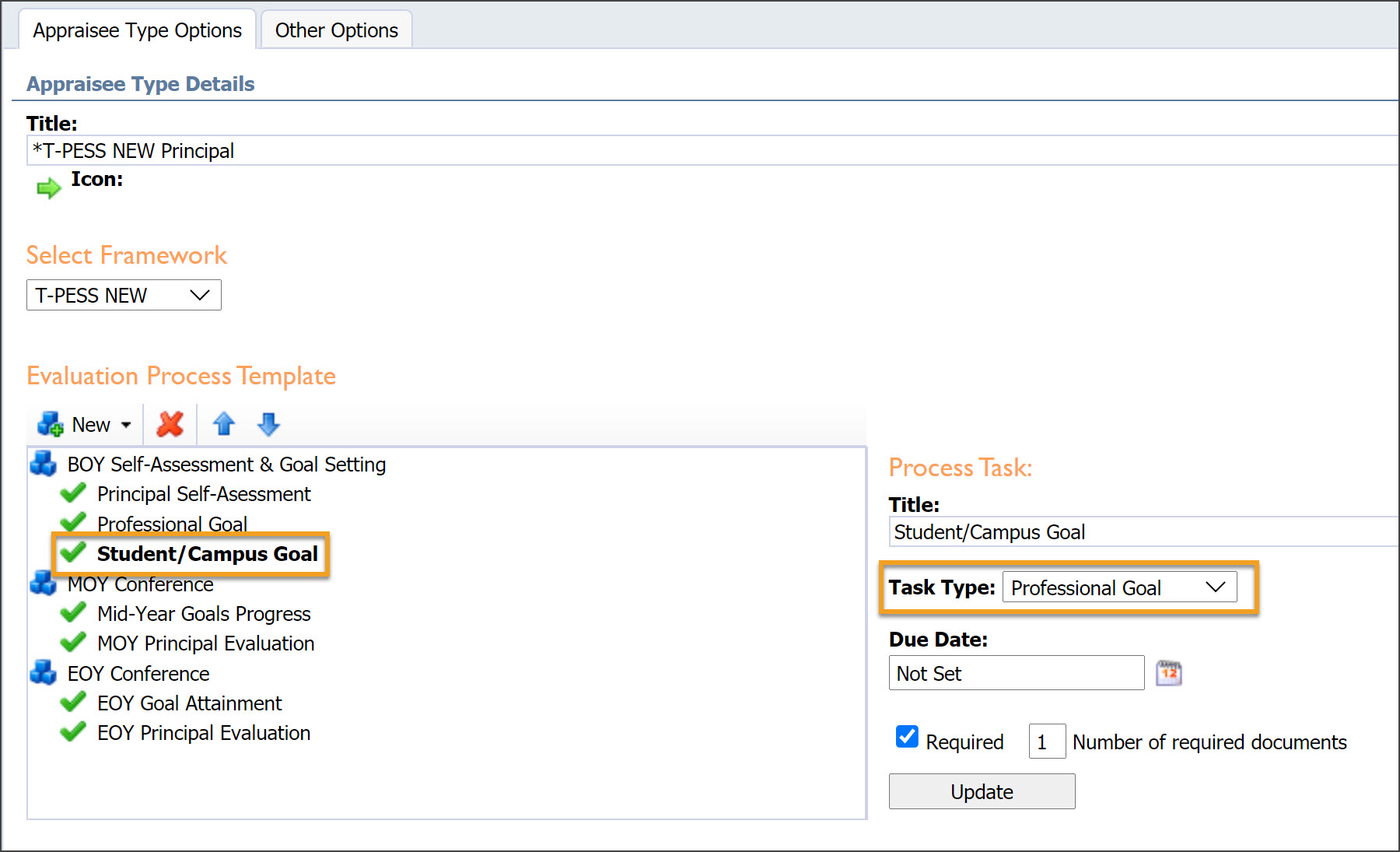 The Student Growth Goal Task Type is designed for teacher's student growth goals and SLOs, and is tied to a specific course and course TEKS. Therefore, it is not used for T-PESS Student/Campus goals.
As mentioned above, each step taken for creating the NEW T-PESS principal appraisee type should be replicated for creating the Assistant Principal appraisee type. The framework and process used will be the same as the principal's. However, each template in the Eduphoria Community will have Assistant Principal in its title.