The Overview provides an at-a-glance visual view to help appraisers answer the question, "What do I need to do right now?" The Overview gives insight into the status of all appraisee evaluation processes. In addition, the Overview helps appraisers identify next steps, including signing evaluations, approving goals, starting a walkthrough, and more.
Note:

Only appraisers with assigned formal appraisees have access to the

Overview

.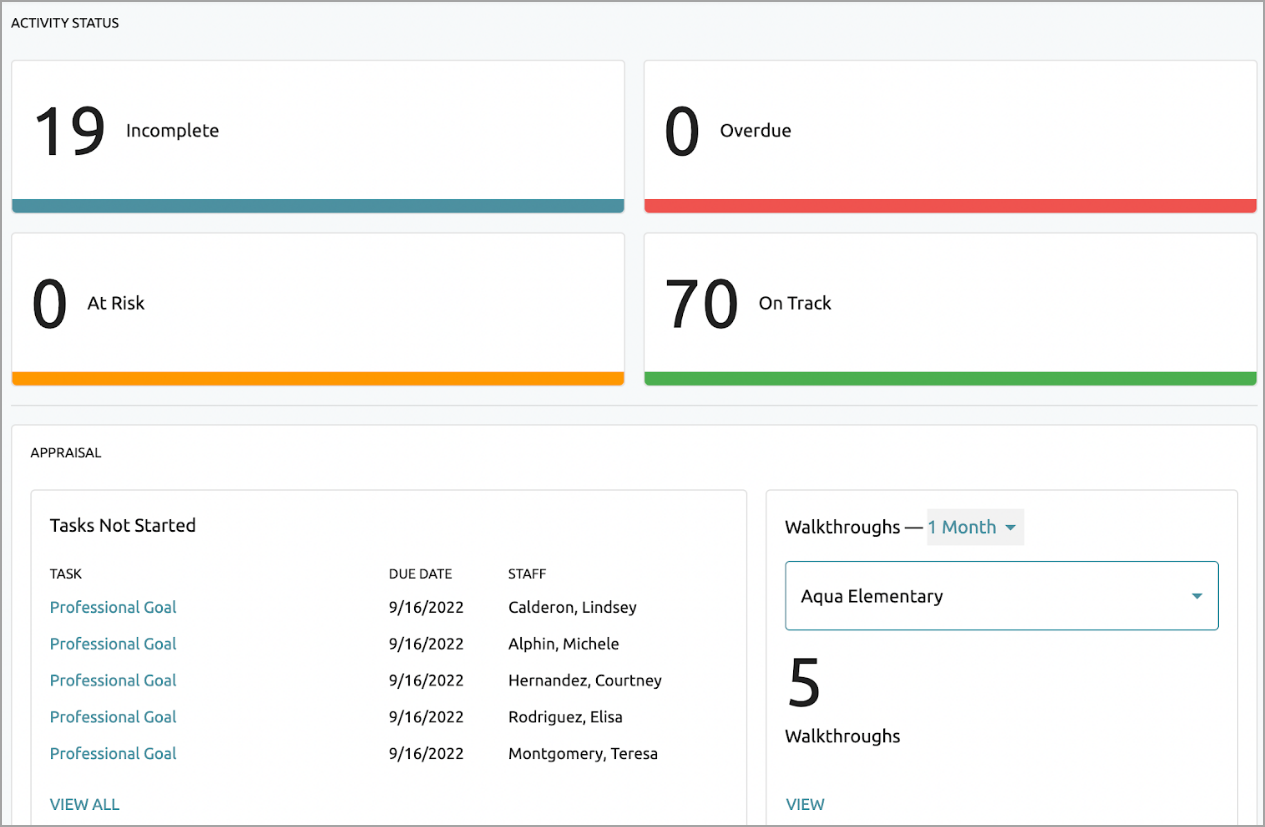 Activity Status
Activity Status shows the Evaluation Process Tasks for all formal appraisees. My Incomplete Items displays tasks that require action. Based on the due dates within each Appraisee Type, you will be alerted to any task that is Overdue, At Risk, or On Track for all appraisees. For example, an appraiser may have 25 On Track, 4 At Risk, and 2 Overdue tasks listed.

Incomplete Items
Incomplete Items call attention to any documents or goals within a task that may require review. Examples of My Incomplete Items include actions appraisers can take to complete the items, such as:
signing an observation;

making a walkthrough viewable to a staff member;

approving a staff goal; and

sending a reminder to view a document.

Tasks Not Started
Tasks Not Started includes a list of tasks that have not yet begun. Tasks are listed in priority order based on due dates. Click the tile to create a task or click View All to create a task from the All Appraisal Activity table in Activity Tracker.
Note:

If a task is in progress, it will continue to show as

Not Started

until it is complete.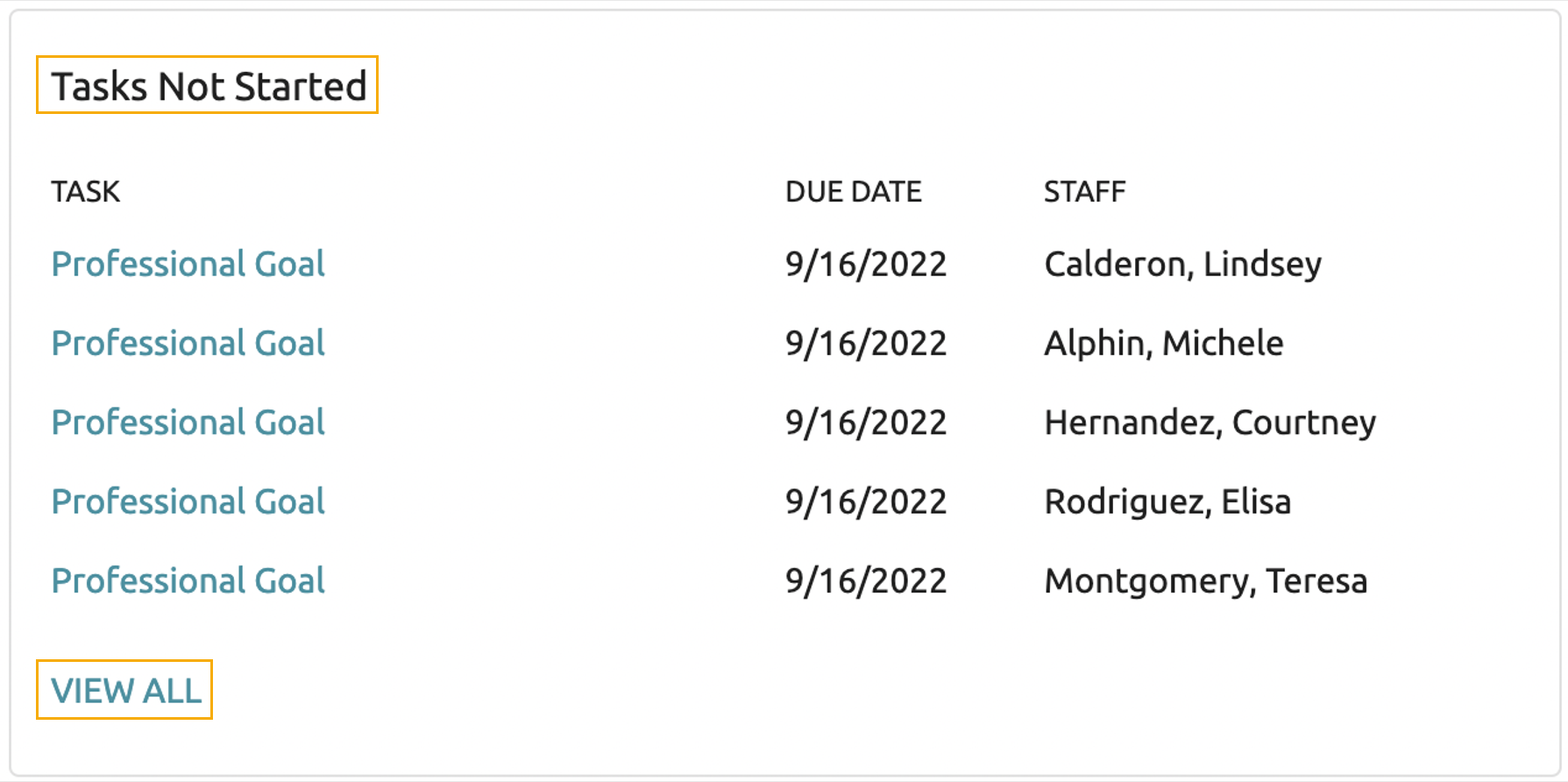 Walkthroughs
The Walkthrough tile provides a quick count of walkthroughs on your campus within either a 1 Week, 2 Week, or 1 Month timeline. Click View to see a detailed table of walkthrough information.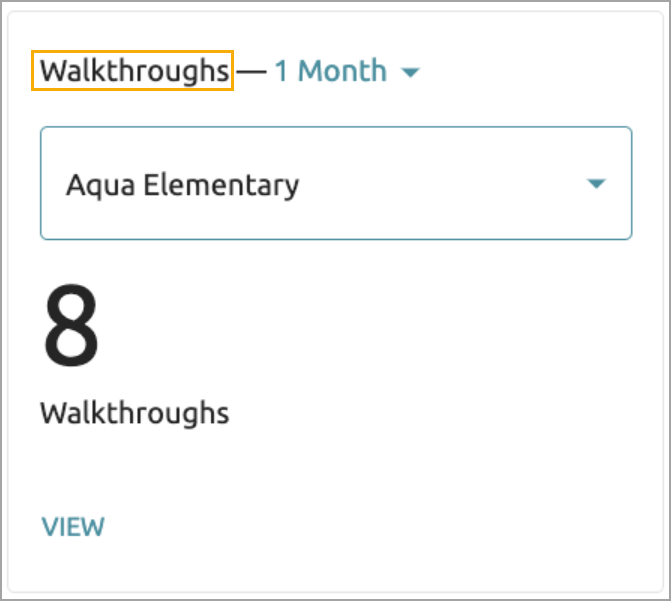 The detailed Walkthrough table allows appraisers to filter, search, sort, view status, and download all walkthrough data.