The Document Analysis Report will allow you to view all data from an appraisal document. It can be used to analyze that data and prepare data for your TIA submission.
NOTE: Strive's TIA Export report has fields to match the data submission file template provided by TIA that might be a better fit for districts that are only submitting the 8 required dimensions from domains 2 and 3. Data from the Document Analysis report can support the TIA reporting requirements for districts that are including additional dimensions in their TIA submission.
Generating the Document Analysis Report
1. Navigate to Analysis and Reports.
2. Select View beneath Appraisal Reports.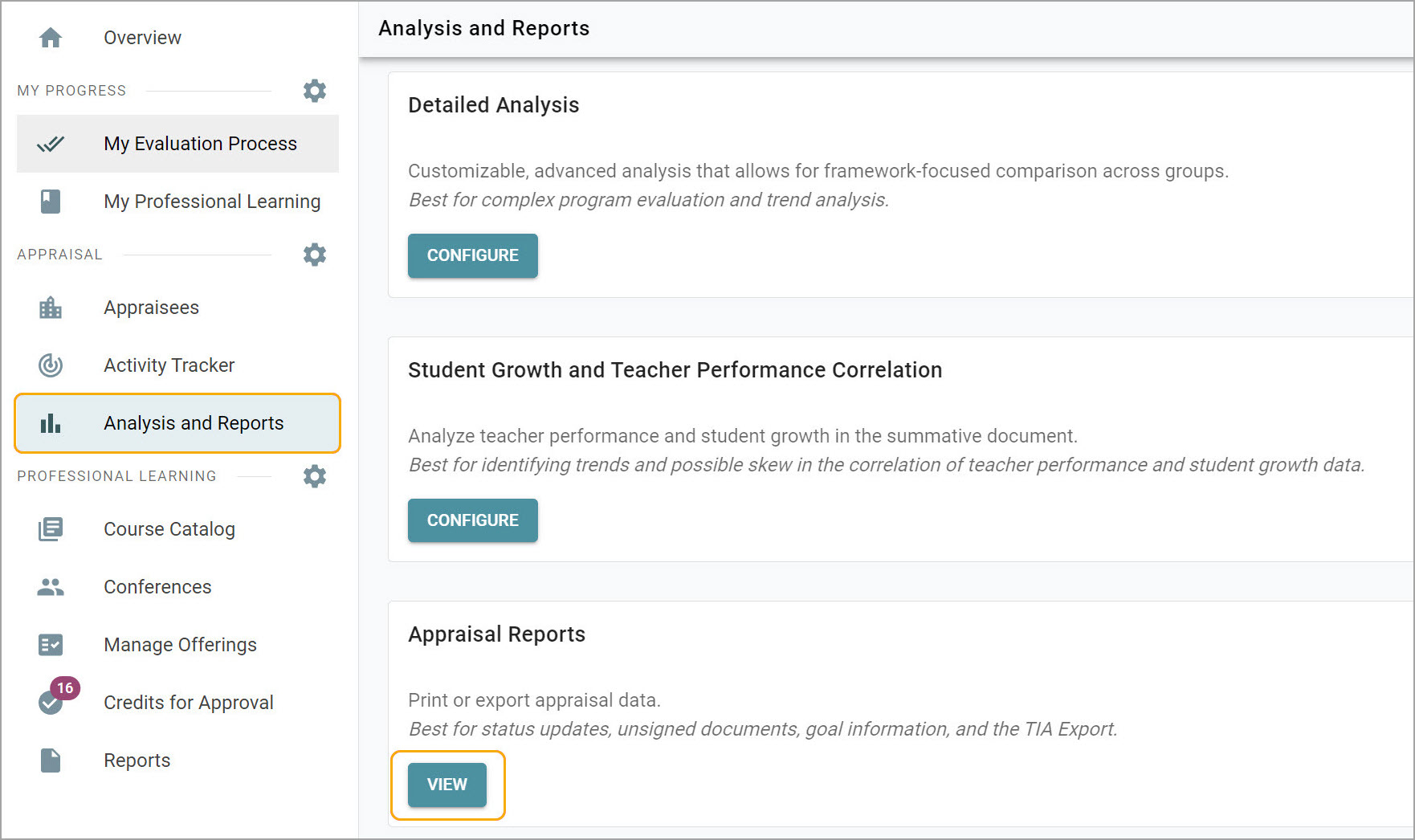 3. Select the Document Analysis Report.

4. Select the T-TESS observation or summative document used in your district's evaluation process to be run by the document analysis report.
5. Apply the date filter for a specific timeframe. If no timeframe is selected, the current year will be the default.
6. Generate the T-TESS document analysis report for the specific timeframe by selecting Print, then Export to Spreadsheet.
Formatting the Data for TIA Reporting
The following fields are available within the Document Analysis Report and may be used for TIA data reporting:
First and Last Name of Educator

Campus Name

Teacher ID

(only if the district as imported IDs into Eduphoria via AD Sync or the user import)

First and Last Name of Appraiser

Dimension Data

(for Domains 1-3 in Observations documents, and Dimension data for Domains 1-4 in Summative documents)

Percentage of Students who Met or Exceeded Growth

(requires manual calculation within spreadsheet; is only available in Summatives where the percentages were collected in the document)
NOTE: Other fields required for the TIA data submission can be added to the spreadsheet and the data merged in from other sources.
Removing Unwanted Fields
After generating the Document Analysis Report, you must format the data. In the spreadsheet, there are some unnecessary fields for reporting to TIA, such as the Date and Time of the evaluation, evidence/comments columns, etc. These fields may be deleted or hidden, depending on your needs.
Right-click on the column you want to delete and make your selection from the dropdown menu.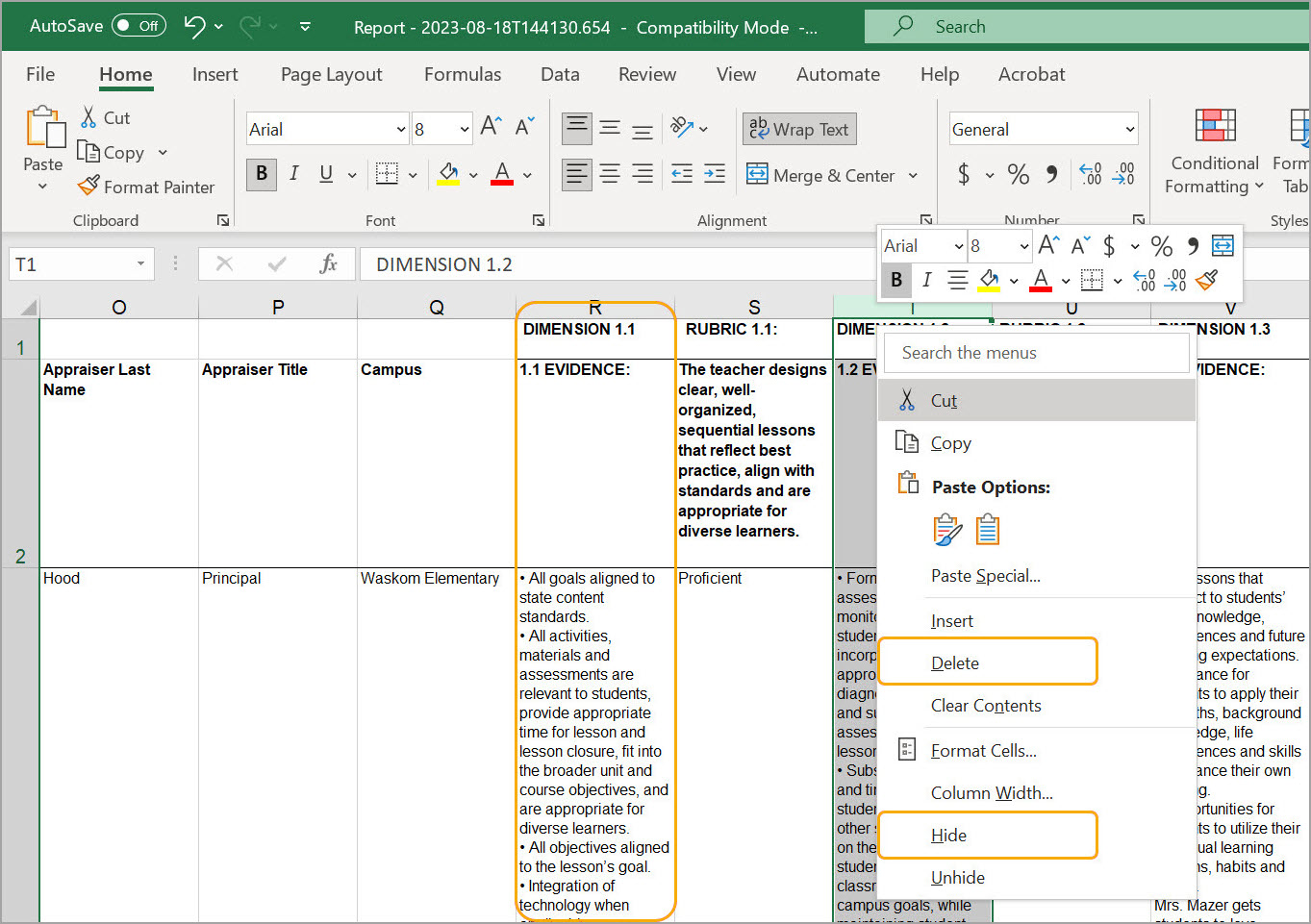 Calculating Dimension Ratings in Document Analysis
The report will display the alpha designation for each rating. For calculations and/or TIA reporting, each dimension requires a numerical rating between 1-5. Representation of each number rating is as follows:
5 - Distinguished

4 - Accomplished

3 - Proficient

2 - Developing

1 - Needs Improvement
Use Find and Replace to convert the alpha ratings to numeric.
1. Select Find, then Replace, or use CTRL + H.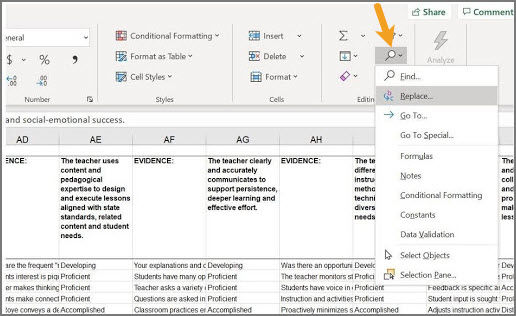 2. Type in a rating and its corresponding numerical value, then select Replace All.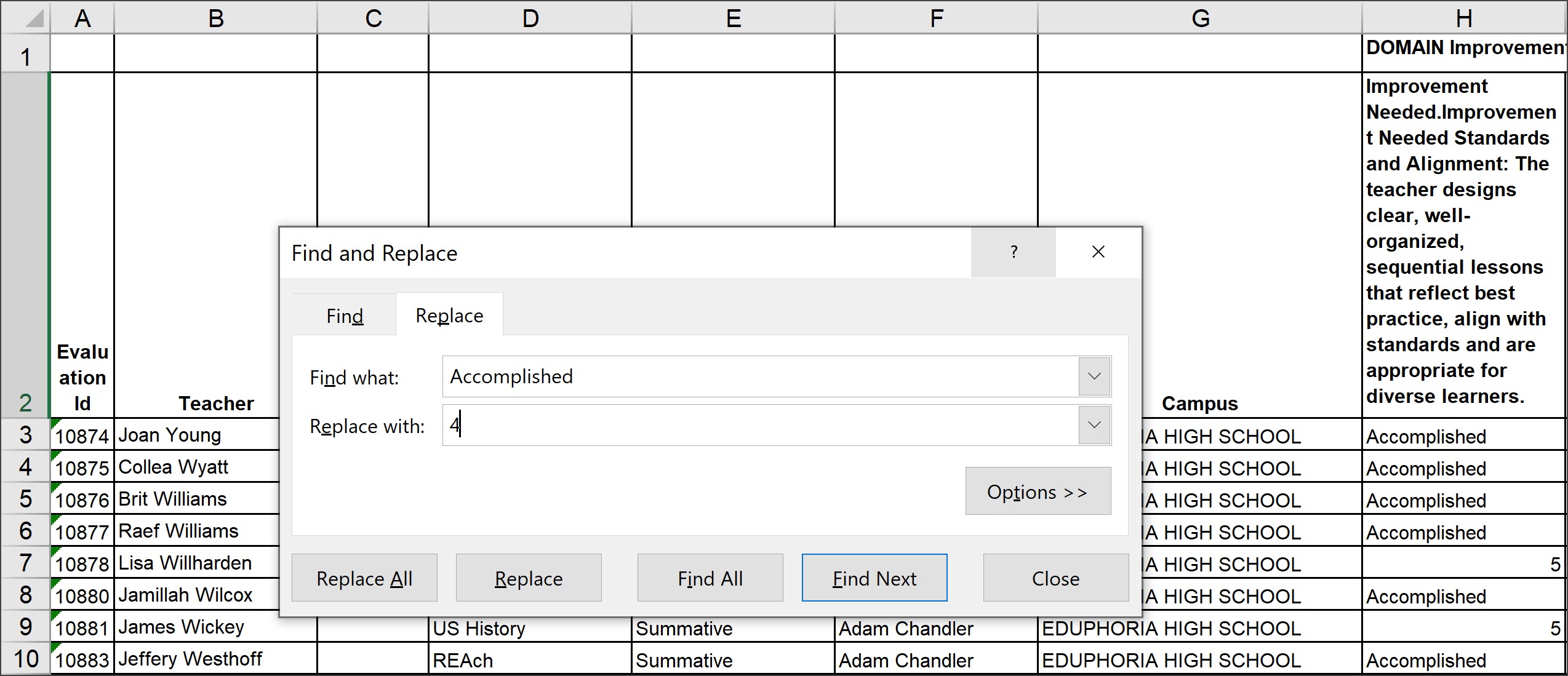 3. Repeat step 2 for all other rating levels.
Adding Additional Fields
You will need to add fields to your spreadsheet that are required by TIA but not included in Eduphoria.
These include:
Middle Name

Internal Teacher ID

Unique ID of the educator **

TEA ID of the educator **

DOB

Proposed Designation Level (New or Higher only)

Still employed by LEA

Eligible Teacher group

Main Service ID(s) for Observation and Growth

Appraiser/Rater Unique ID
Once you have added the field headers to your spreadsheet, you can merge the data from other sources.
You may also need to add columns to your spreadsheet for other data you included in your TIA Application. You can also add formulas as needed.
For example, you can add a column to the right of all your dimension ratings and use the average function to get an average rating. Then drag the corner dot on the formula cell to include all the cells you want to show the average, OR go to the home screen, editing box, use the fill drop-down menu, and select down to fill the entire column.