The Upload Test Files option within the Analysis Settings gear allows Aware administrators to upload state and national test data. Using the DAT files from state CDs and other sources, districts can upload external test data.
Before uploading a test file, review our current list of supported file types.
Uploading a Test File
Step 1: Select the Analysis Settings gear, then select Upload Test Files.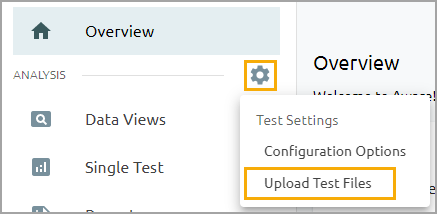 Step 2: Under the Pending Files tab, click the Choose File button to search for a file to upload.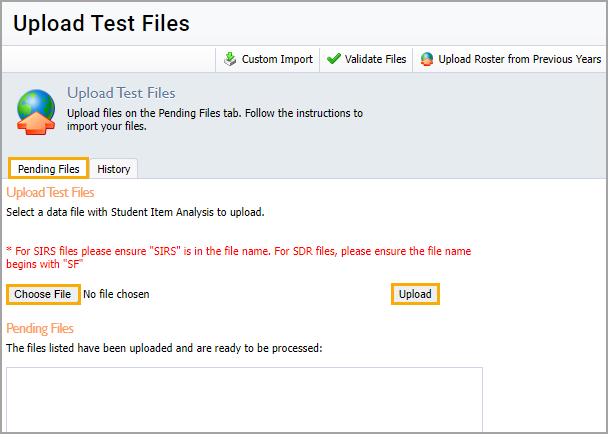 Step 3: Once selected, click the Upload button.
Files selected for upload will automatically appear on the Pending Files tab. Districts can add multiple files to the pending files upload queue.
Note: The file upload process can take some time, so the district may have to wait on a file or files depending on file size.
Once the importer finishes, files will disappear from the Pending Files tab. To view the status and other details of the file import, click on the History tab. Once the imports are successfully completed, they will have a green checkmark.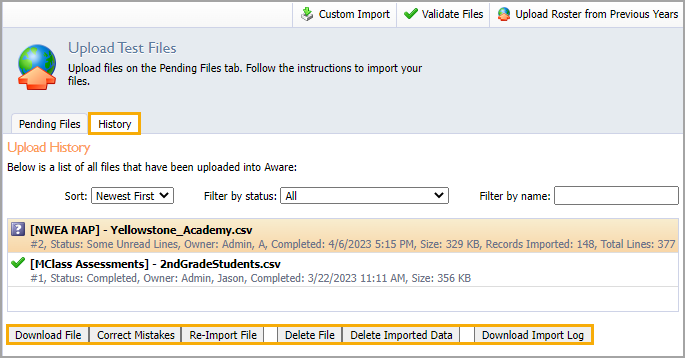 State Test Files
As new state test file formats and new data from the files become available, the Eduphoria development team works to update the importer schema for the new data. Sometimes, districts will need to Re-Import Files to display updated data for analysis.
Step 1: Select a file on the History tab, then click the Re-Import File button.
Step 2: Wait for the files to process.
Frequently Asked Questions
Q: How does Aware link to students in the data files?
A: The importer actually tries several ways. First, it attempts to match on State ID. This might be SSN or another PEIMS identifier. If this fails (i.e. the file does not contain that ID or Aware doesn't find the student), it attempts to match by the student's first name, last name, and date of birth. If this fails, it can attempt to match on the student's Local, District ID. The system should only look at Local, District ID if the district has that option checked in the following location: Aware > Analysis Settings gear > Configuration Options > Advanced tab > Check data files for local ID number matches.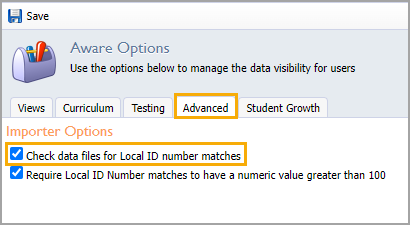 Q: How does Eduphoria receive the format documents for test files?
A: Eduphoria has access to file formats that districts provide or what is freely available online. The College Board provides the current year format documents for fixed-width files on their site, so Eduphoria has those on hand.
Q: What happens when test file formats are updated by vendors?
A: Eduphoria's developers update the importer schema to handle these changes. Then, the schema changes are tested by Eduphoria to make sure the files are importing correctly. After passing testing, Eduphoria changes the Supported File Formats list and releases the updates to customers. (Example: Updates were made to the ACT file to be a 1050 character, fixed-width data file. Therefore, the importer schema needed to be updated, tested, and released.)