Aware users who have the ability to create District-level or School-level Assessments are able to mass edit certain characteristics of those tests by using the Mass Edit Assessments tool.
Opening the Mass Editing Tool
Select the Assessments tab
Navigate to the Assessment Options section
Select Mass Edit Assessments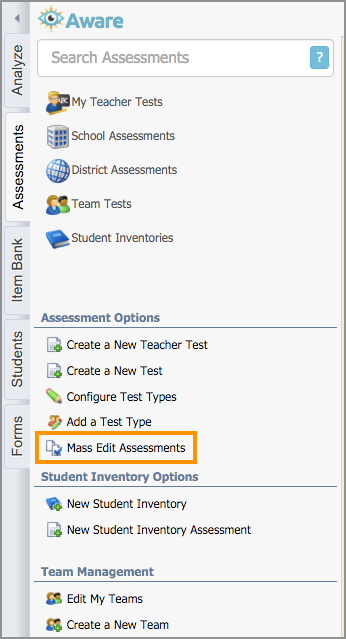 Note: The Editor will open with a mostly blank screen.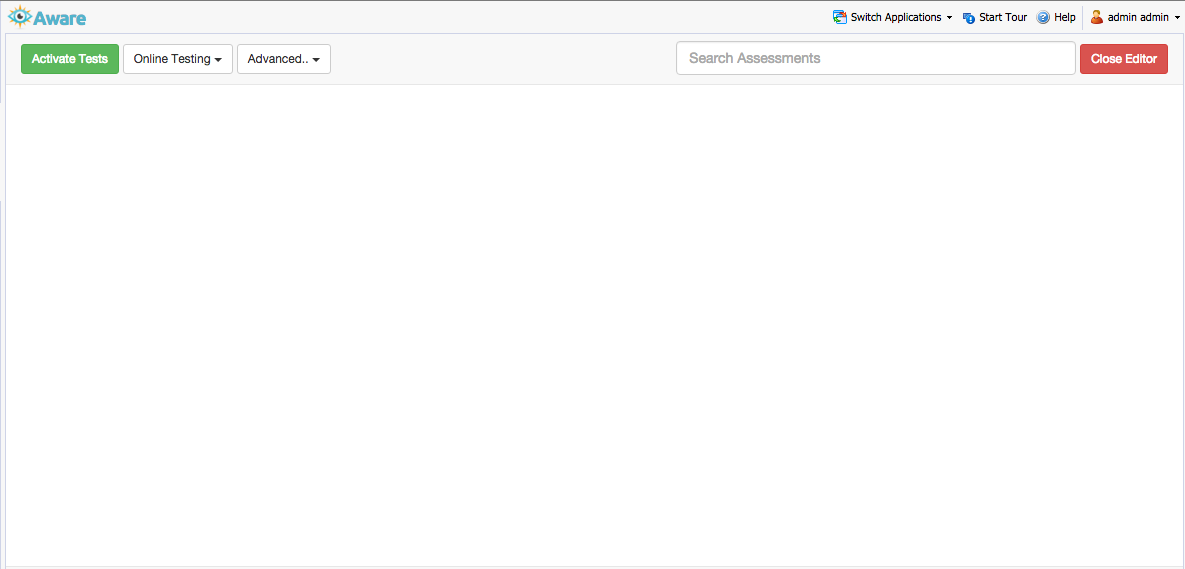 Searching for Assessments to Mass Edit
Once in the Editor, you will need to enter search parameters to generate the set of assessments you want to mass edit. Begin typing your search criteria in the text box where the "Search Assessments" text appears. Most search terms will offer suggestions to auto-populate as you begin typing.

You can search using combinations of
Assessment Level - District or school
Test Type - These are defined locally by your district.
Subject
Grade Level
School Year
Online Enabled - Online enabled or online disabled
Online Status - Started or stopped
Test State - Pending, active or archived
Test Name - Complete or partial name of the test (This search feature will not auto-populate like the other search parameters.)
For this Eduphoria Help article, we will look at a set containing four math assessments.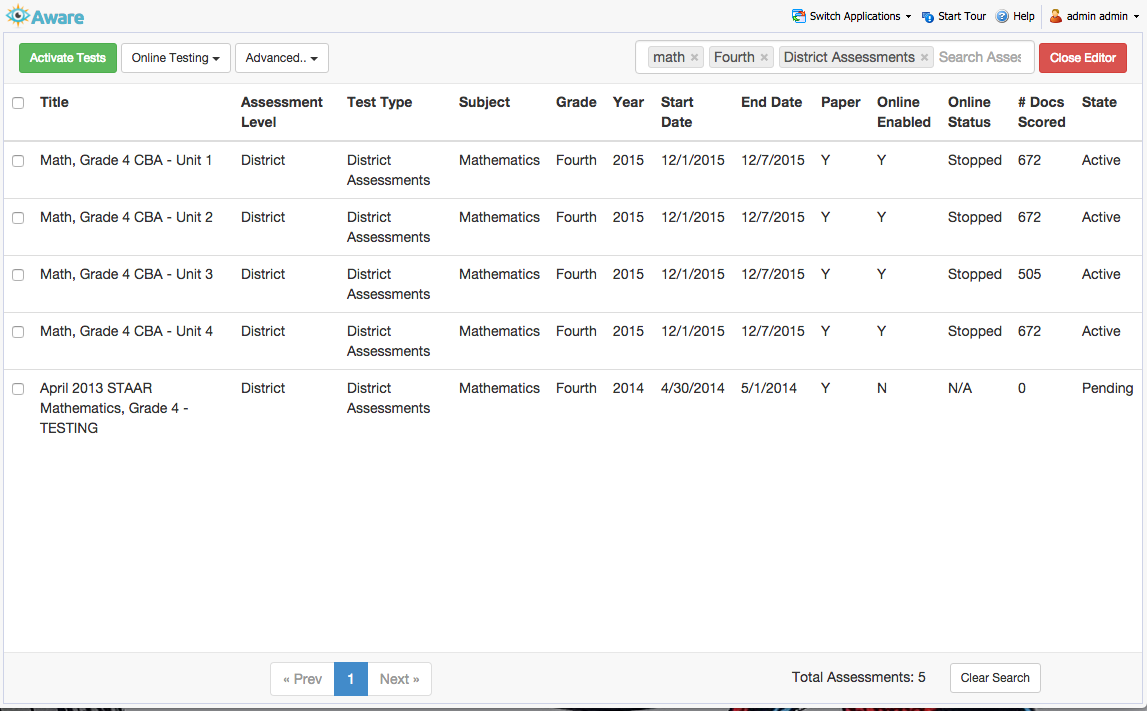 While this search returned five assessments, we are only interested in the four CBA unit tests. We can keep narrowing down our search, but this is not always necessary. The Editor will allow you to select the specific tests you want to alter by using the checkboxes to the left of each test title.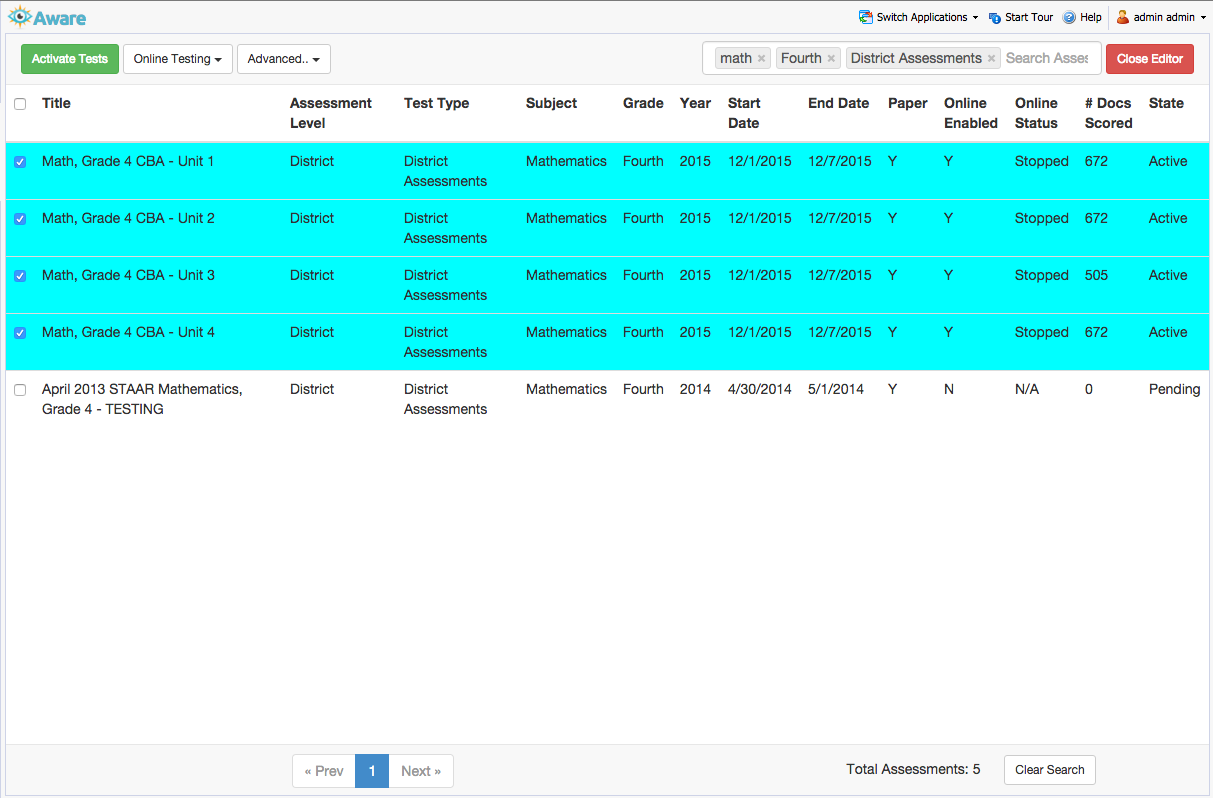 At the bottom of the Editor interface,
You can navigate between pages by clicking on Prev, Next, and number buttons to view the other pages of results.
You will see the total number of assessments contained in your search results. In this case, there are 5.
You can click the Clear Search button to begin a new assessment search.
Mass Editing Options

Activate Tests - Changes assessments from the Pending state to the Active state

Note: TESTS CANNOT BE MASS-CHANGED BACK TO PENDING.

Online Testing - START or STOP assessments that are online enabled, active AND in their testing windows.
Advanced - Allows assessments to be either mass-archived or modified (See below.)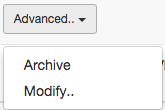 Mass Archiving
Assessments that are not in their testing windows can be mass archived. This means mass archiving needs to occur OUTSIDE of the current instructional year during the summer break.

NOTE:

USE CAUTION WITH THIS FEATURE, MAKING SURE TO ONLY INCLUDE ASSESSMENTS THAT ARE READY TO BE ARCHIVED.
Campus-level users cannot mass archive assessments made by other users.
Note: If you receive the error message below, please check your tests for the reasons listed.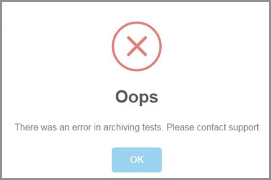 The system will not archive tests that are in pending status.
The system will not archive tests that are in 'Started' status if online.

Started online tests will need to be stopped and pending tests made active.

The system will not archive tests with date ranges that do not fall within a school year according to the instructional calendar in the Management application.

All tests will need to have a start and end date that fall within the calendar's given school year.
Mass Modifying
You are able to choose from a menu of features that can be modified for the selected assessments.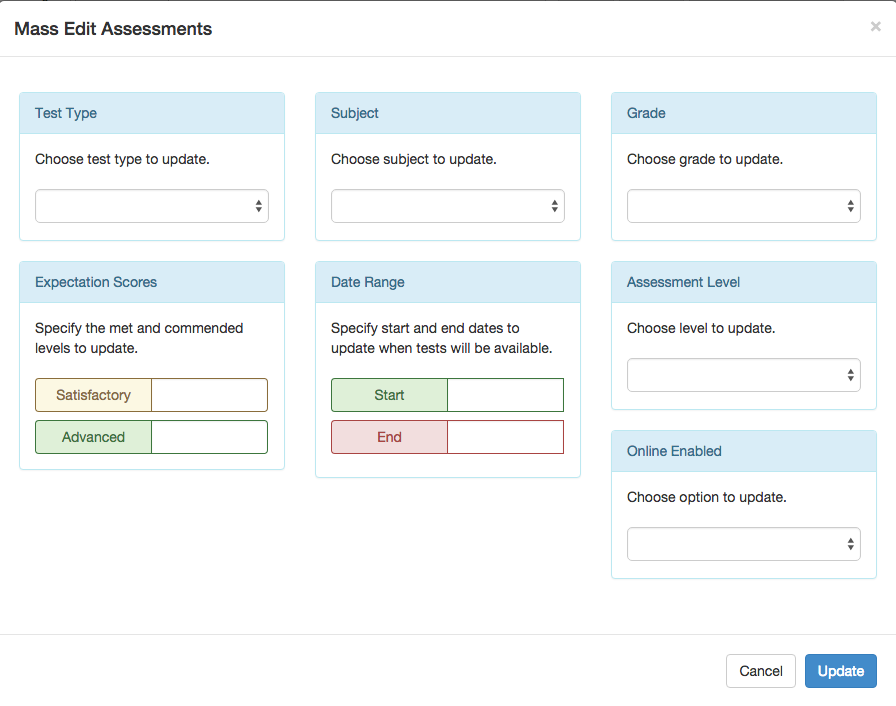 Identify one or more features to edit in the new window.
Make the necessary changes.
Click Update.