This article covers three components for using Evaluation Templates:
Import templates from Eduphoria Community.
Edit existing templates.
Create new templates.
Eduphoria Templates
Evaluation Templates are forms used in the evaluation process. Forms exist in specific folders tied to customizable options for each form type. There are seven categories for evaluation template documents.
Reflection
Walkthrough
Observation
Evaluation
Summative
Intervention
Group Evaluation
Import Eduphoria Community Templates
Eduphoria Community is a feature available in Appraisal Settings to access forms created by Eduphoria staff and district users. Forms are available for download for free. You can import forms into your system for use as-is or for editing to your specifications.
In Appraisal Settings, click on Eduphoria Community.
Click on the Refresh button to update your form list.
Note: If you do not see Eduphoria Community in Appraisee Settings, click on General Options and deselect the checkbox for Disable Access to Eduphoria Community. Click Save, then log out of Eduphoria and log back into Strive's Appraisal Settings.
Community forms are in specific folders. When you import a template, it will import directly into the same folder type in your system. So if you import a document from the Reflections folder, it will import into your Reflections folder. Forms cannot move from one folder type to another.
Navigate through the specific folder types to view evaluation templates. When you find one you want to use, click the Import Template button, and the form will implement into the same folder in your settings.

Note: For a time saver, use forms with "* NEW T-PESS/T-TESS" in the title. These forms are pre-tegged by T-TESS/T-PESS frameworks for use with summative panels.
Edit Existing Evaluation Templates
The best time to edit evaluation templates is between the end and start of an evaluation year.
Note: Do not update or change existing and in-use templates during the evaluation year.
Editing Template Information
You may want to rename or change basic information about a form template. Use the Template Information tab to make specific changes.
Change the Name of the Form:
Edit the title under the Template details
Change the Template Icon:
Edit the icon under the Template details by clicking the icon to pull up other icon choices
Deleting a Template:
Select Delete Template from the top menu bar
Change how the template is scored:
Change from simple, not scored to advanced, with calculations
Select the Framework tied to the form
Use the drop-down menu to select a specific framework for the evaluation form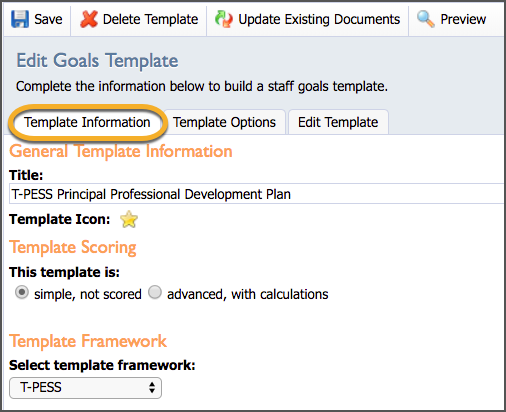 After making changes to Template Options, click Save to save changes.
Click the Update Existing Documents to push updates out to users.
Editing Template Options
Based on the template's folder, template options differ between form types. Check the boxes next to options specific to each form. Click Save to save changes and Update Existing Documents to push updates out to users.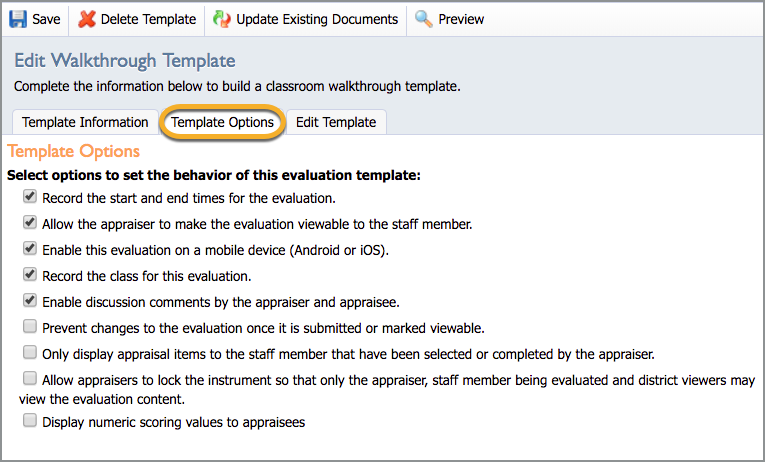 Editing Template
Evaluation templates are composed of groups, matrix groups, and items.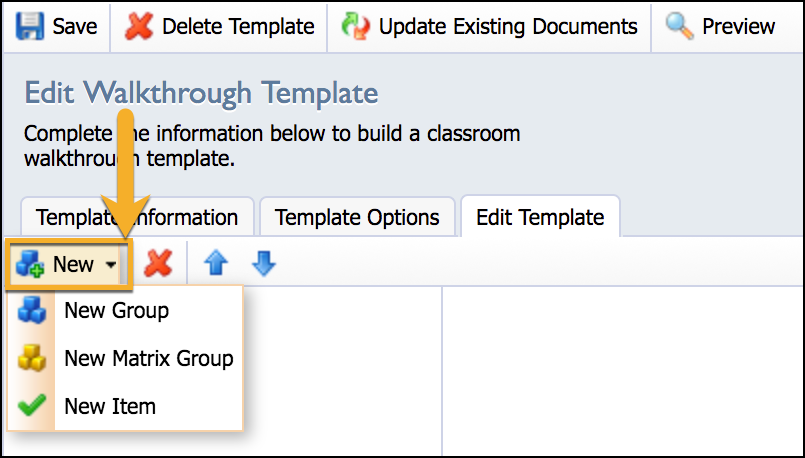 Groups
A group contains one or more items. For instance, a form entitled "Classroom Management" may include several check boxes about how teachers manage their classrooms. The entire section "Classroom Management" is the group, and the individual check boxes are each an item in the group. A group can also be used to create a header for a form without attaching items to it.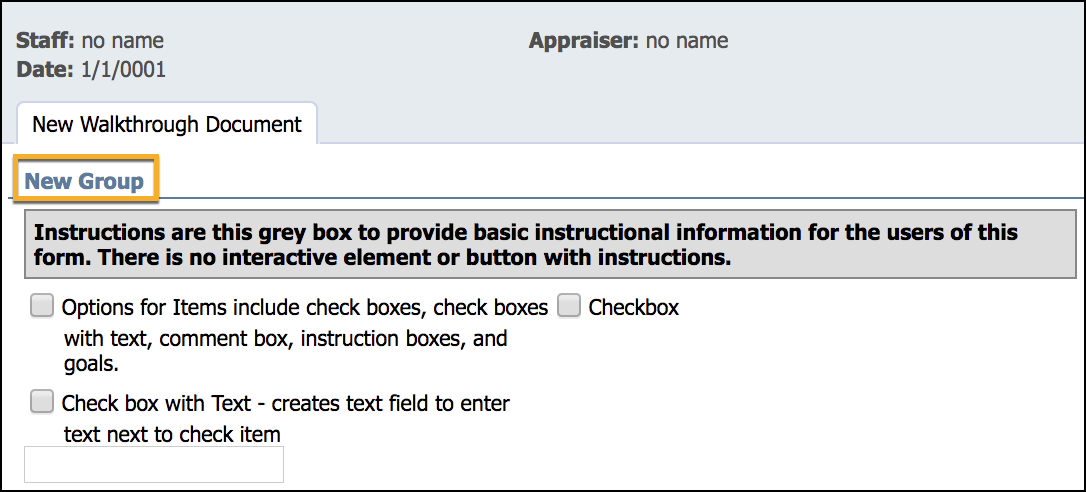 Matrix Group
Matrix groups are special groups designed to store information in a columns and rows format. You can have as many rows as desired; however, you can only have up to five columns.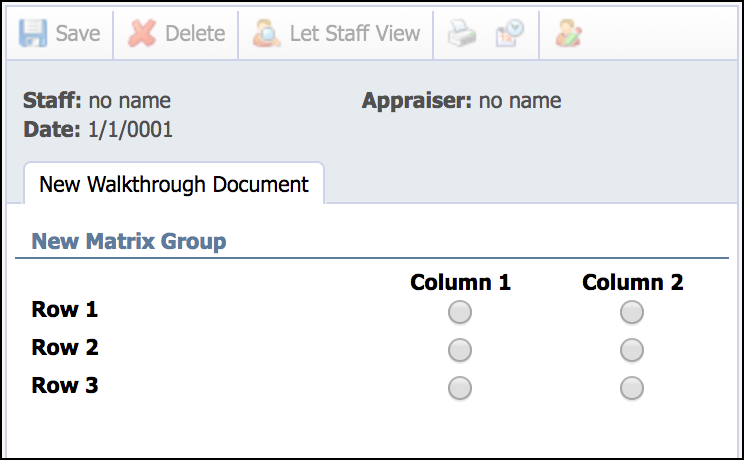 Item
Items can be check boxes, check boxes with text, comment boxes, instructions, or goals.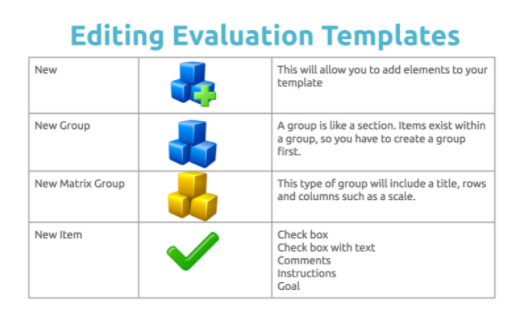 Creating and Editing New Groups
Choose New from the drop-down list and choose New Group or New Matrix Group.
Type in a name for the new group under Group Name and click Update.
Continue adding as many groups as you need.
Use the Up or Down arrows to change the group order.
Click on the group name again to rename the group.
Click the red X to delete a group or specific item.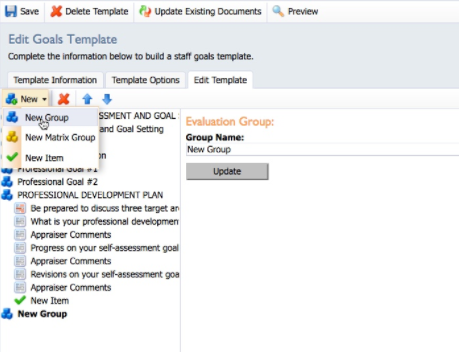 Creating and Editing Items within Groups
Click on the group in which to add items.
Choose New from the drop-down menu and choose New Item.
Type in the new item's name under Item Name and choose the type of item from the drop-down menu.

Types of items:

Check Box allows the evaluator to make selections by clicking the box.
Check Box with Text allows evaluators to type text next to the check box.

NOTE: The Check Box with Text feature does not function on handheld devices.

Comment Box allows the evaluator to enter text, and you will need to select how many lines tall this box should be.
Instructions allows instructions about the template itself.
Goals allows enhanced goal information from the Goals tab into a form.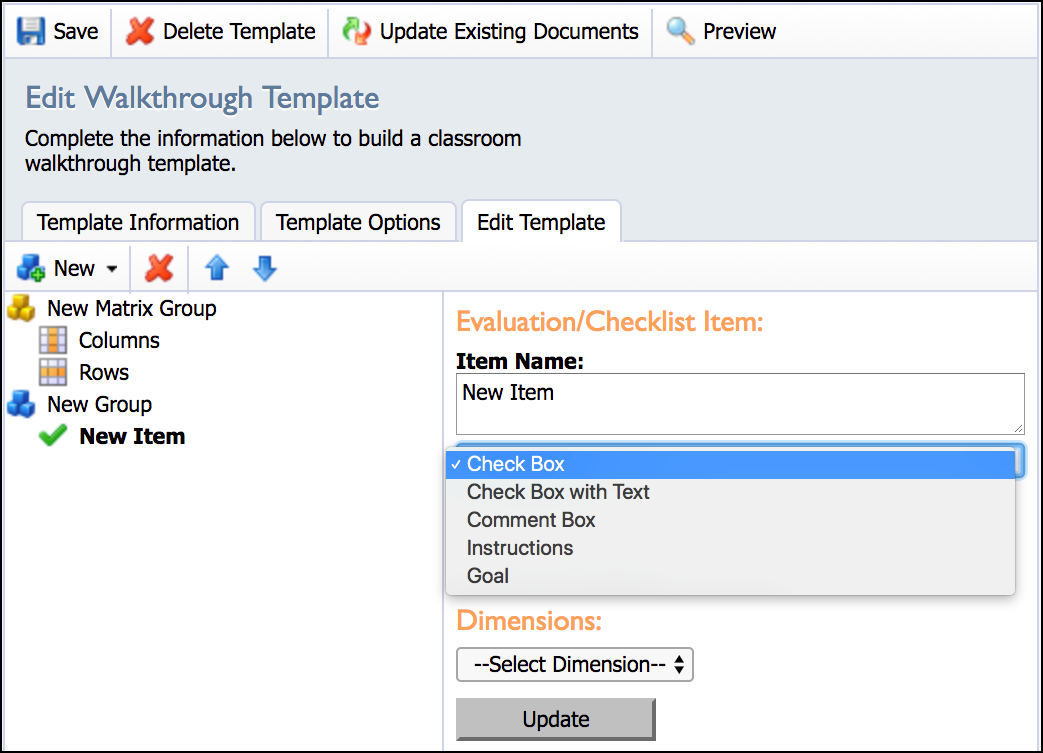 Click Update to add the item to that group.
Continue adding as many items as needed.
Use the Up or Down arrows to change the item order.
Click the item name again to rename the item.
Click the X to delete an item.
Adding Appraiser Comments to a Reflection Template
If you want the Appraiser to be able to comment on an appraisal document, provide a place for comments by creating a Comment Box item. Ensure the Comment Type is set to Appraiser Comments.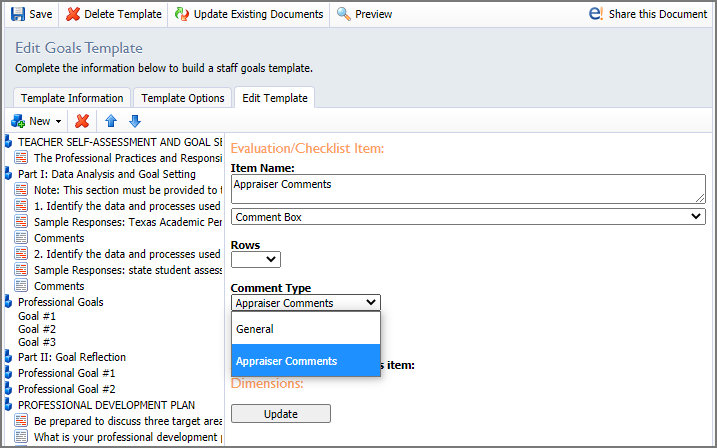 Once you have added all the necessary groups and items for those groups, you can use the Preview button to see how the new template will look. Remember to click Save. Click Delete Template to delete a walkthrough template.
As you change the template, it will not modify the existing evaluations created using this template. However, if you wish to retroactively update all existing evaluations that have used this template to match your changes, click Update Existing Documents to update any completed walkthrough templates. Use caution when editing a template, as you can erase information.
NOTE: In order for your new Evaluation template to be available to the Appraiser, you will need to connect it to an Appraisee Type that will be using that template for evaluations.
Add a Column to a Form
If you have a form with only one radio button for selection, you may have userAppraiseridentally select this option and need a way to deselect the choice. A checkbox allows users to click an item on or off and work independently of other choice options. A radio button requires multiple options to enable a user to click between grouped items to make a choice.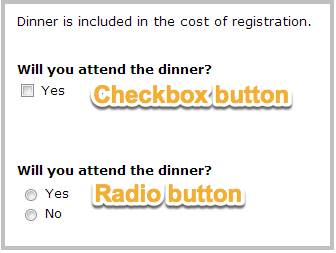 Some templates in our Eduphoria Community use ungrouped radio buttons that cause issues in Observations not to allow users to deselect a choice they did not mean to choose.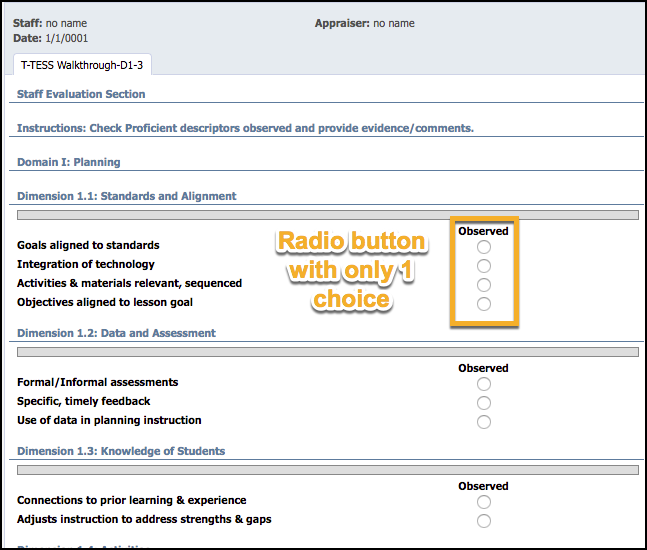 A fix is to edit the form and add a column to each group section where the radio buttons occur.
Click on Evaluation Templates.
Open the template you need to edit.
Click the Edit Template tab.
Click the Matrix Group to open up and reveal the Columns.
Click on Columns.
Enter the option for a second column and click Update.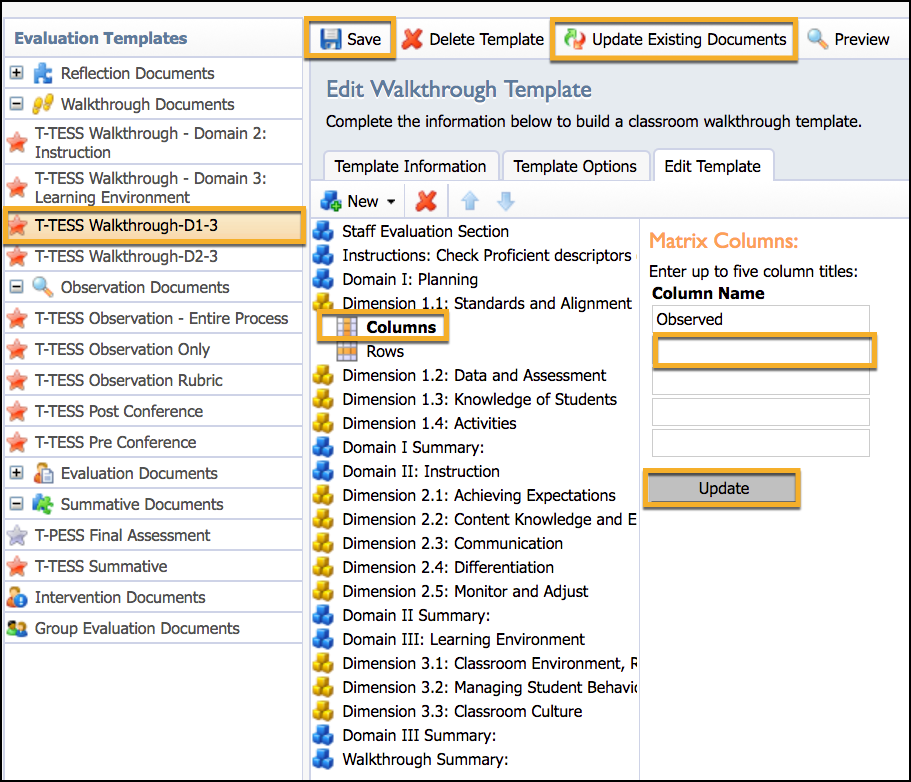 Click Save and then click Update Existing Documents.

Creating a New Template
Click Evaluation Templates under Configuration Options.
Click New Template in the bottom left.
Enter a title for the template and select the template document type.
For a new document, click the option to Create Blank Template.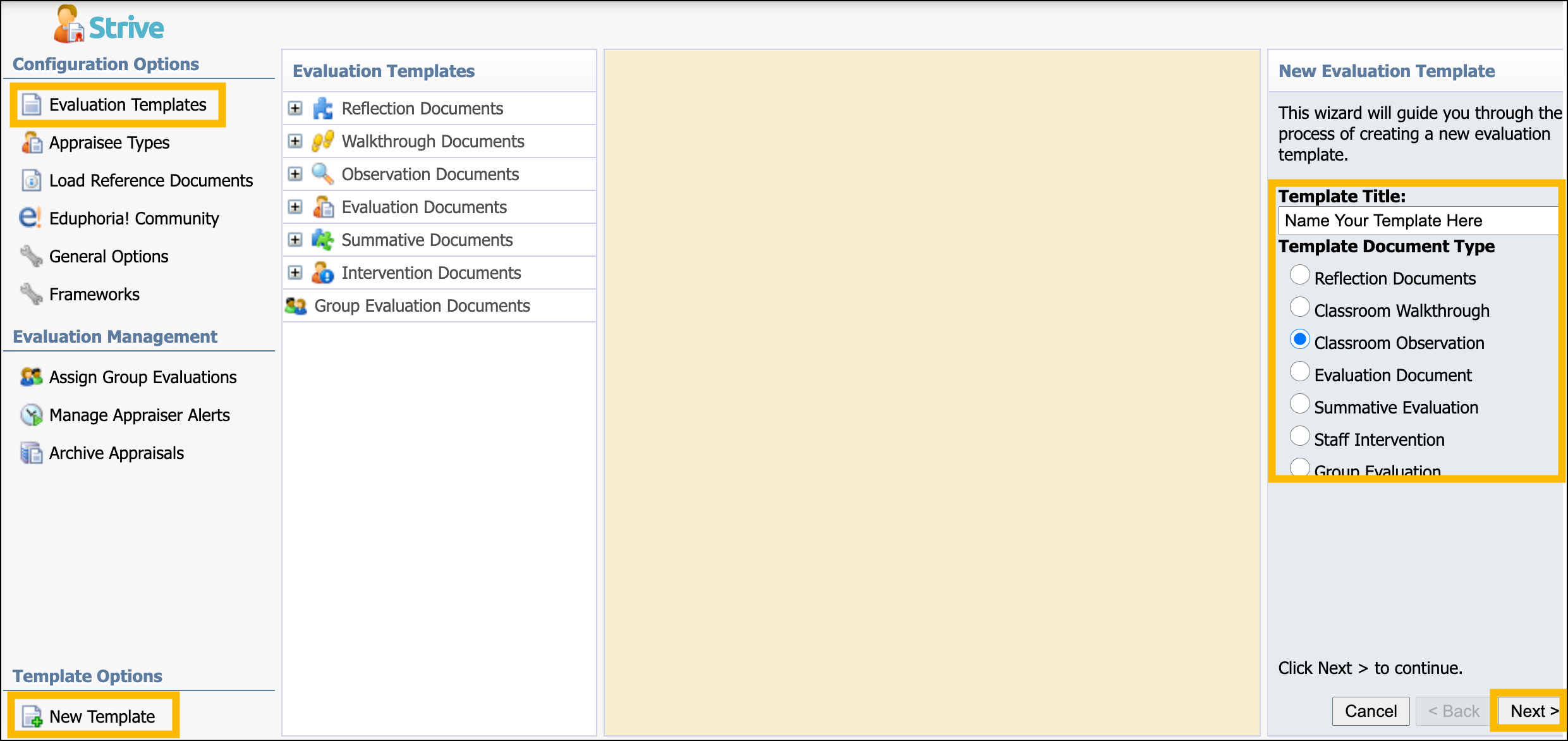 Once you complete the wizard, you will begin editing the template.