Students can take advantage of the Zoom and Color Contrast support options while taking an assessment to improve their online testing experience. Both options appear in the toolbar in the online test interface.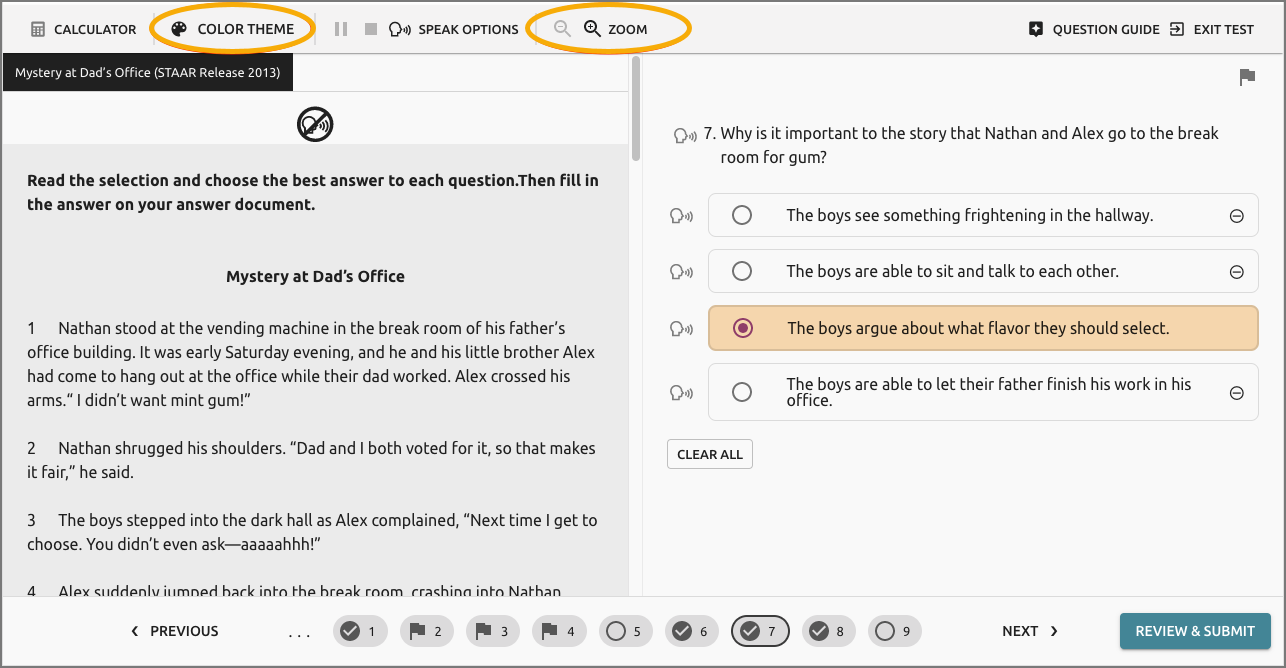 Zoom Option
The Zoom option allows a student to increase the text size in the online testing work area to improve the readability of the assessment items. The student will activate the Zoom function by selecting the magnifying glass on the toolbar.
Here is an example of the same screen text from above that has been zoomed in:
Color Contrast Option
The student can choose color contrast options by selecting Color Theme from the toolbar. We offer the same color options as the online STAAR assessments. A student can choose the color option that best supports their needs by selecting the Color Theme button and choosing a theme.
Here is an example of a black background with white text:
Finally, the toolbar has been simplified and employs contextual buttons for improved useability.

When a student selects text, a pop-up menu will appear. A student can highlight the selected text in a variety of colors: yellow, orange, mint green, and lavender. They can also have the highlighted selection read aloud if Text-to-Speech is enabled. The student can pause and stop as needed while listening, all from the pop-up menu.
Note: Eduphoria currently supports iPadOS 16. If a newer version of the OS exists, email support@eduphoria.net to confirm specific Eduphoria software features will operate successfully with the newer OS version.