Student Portfolios provide a way for teachers to document student learning at multiple points in time. Teachers can use Student Portfolios to effectively plan for intervention and enrichment as well as draw conclusions about student progress and performance.
Teachers can manage Student Portfolios they create in Aware.
Managing Student Portfolios
Select Portfolios under Students to see all existing portfolios, their number of milestones, and their number of students. Portfolio status is either Active or Archived.
Note: Student Portfolios will automatically archive based on your district calendar.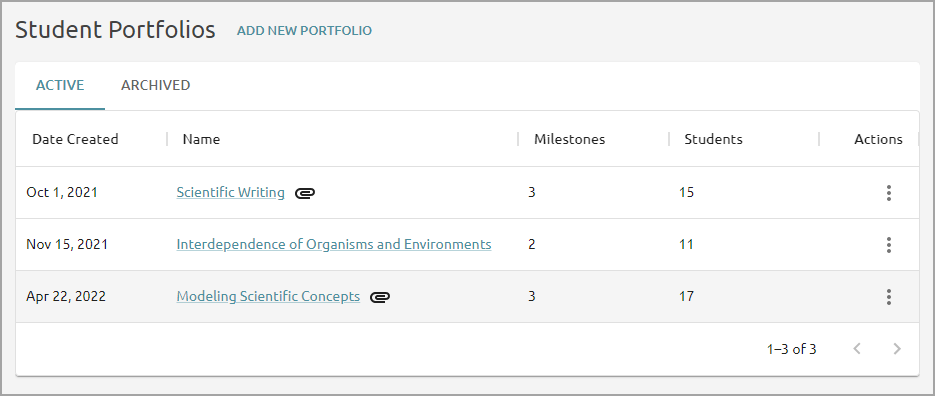 Hover over the portfolio name to see its description. Hovering over the Paperclip icon will display attached Student Growth Goals.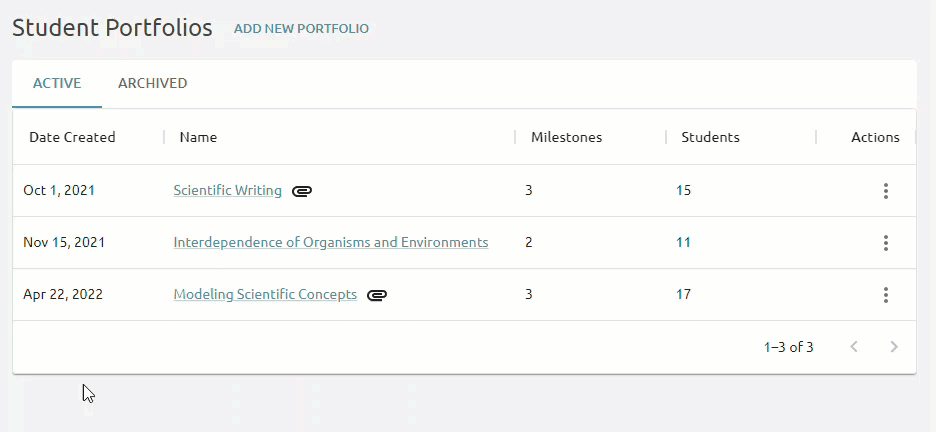 Under Actions, click the three dots to copy, delete, or share the portfolios.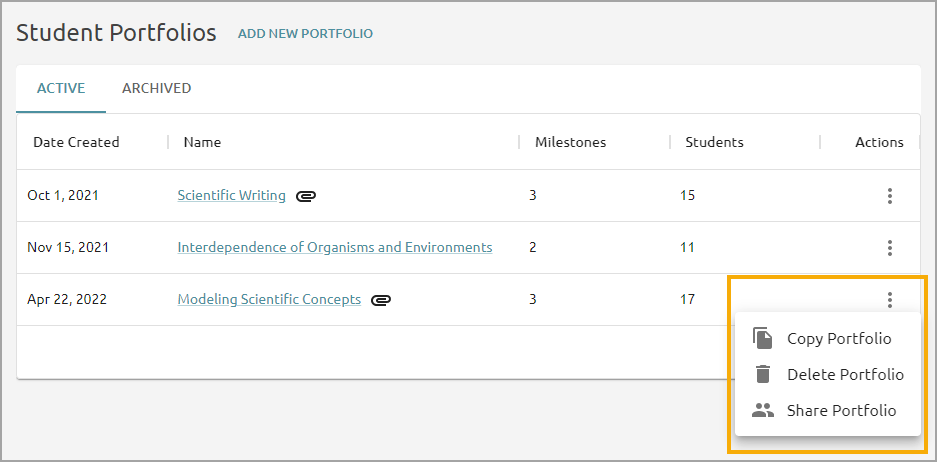 Select Copy Portfolio to create a new copy. You can also select Duplicate from within the portfolio.
Note: The copy you make will not have students, scores, or Student Growth Goals assigned.
Select Delete Portfolio or the Delete icon to remove a portfolio. You cannot delete a portfolio if it is attached to a student growth goal.
Note: This button will delete the portfolio and all scoring associated with the portfolio.
Select Share Portfolio, and choose the appropriate individual teachers and Teacher Teams to which you want to Send a Copy of the portfolio. Click the X to exit the window without sharing a copy.
Note: When you share your portfolio, the receiving teacher(s) will see it listed under My Student Portfolios. It will not have students or scores assigned to it.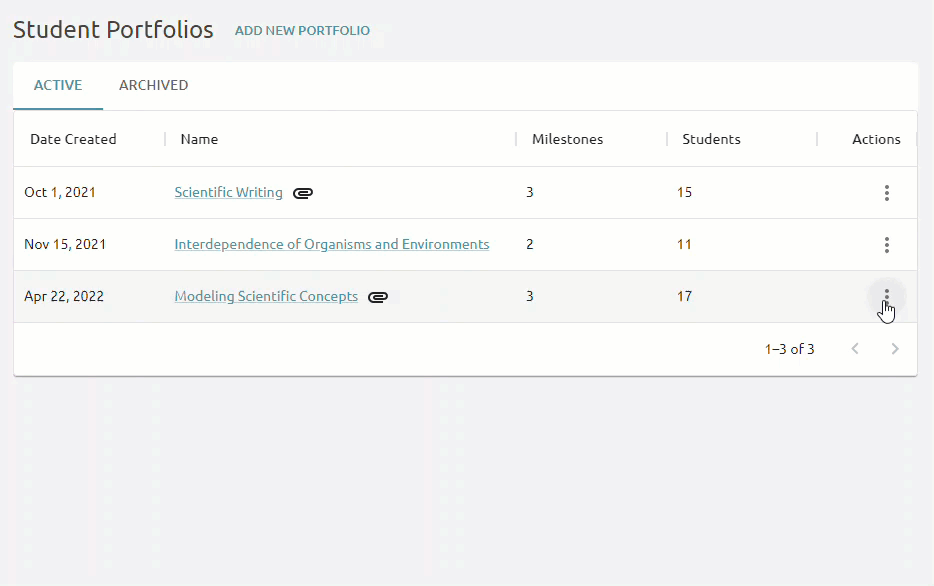 To edit a portfolio, click on the portfolio's name. Then add/edit milestones, assign the portfolio to students, and score the portfolio. Learn more about assigning and scoring student portfolios.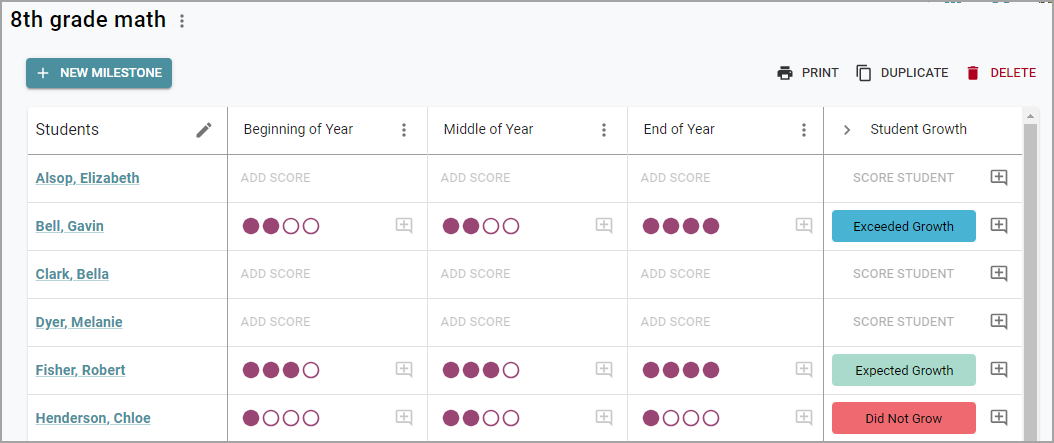 Select the three vertical dots to edit portfolio details, like its title and description, or manage attached Student Growth Goals.

Linking a Student Portfolio to a Student Growth Goal Found in Strive
While logged into Aware, you can link Student Portfolios to Student Growth Goals originally located within Strive. To link a portfolio to a Student Growth Goal found within Strive, first select the three vertical dots beside the portfolio name, then select Manage Attached Goals.
A window will open that shows Student Growth Goals. You can assign up to two goals per portfolio by clicking on each preferred goal, then select Save.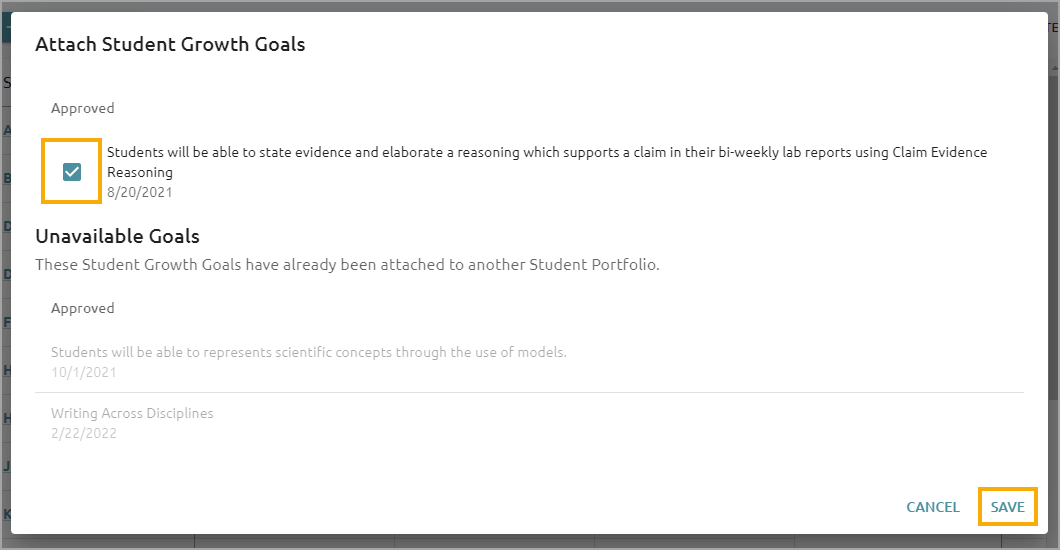 Goals that have already been attached to a portfolio will be listed as unavailable for attachment. You can also attach Student Growth Goals to Student Portfolios while logged into Strive.
Learn more about linking student portfolios to student growth goals in Strive.