Coloring
Test data can be color-coded to make data stand out and examine trends. Click the Color Results icon in the upper-left corner to view color coding.

The data will be color-coded according to the following percent score scale: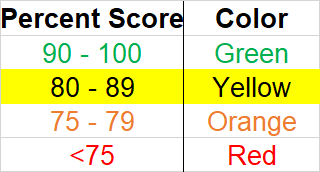 Comparison Across Tests
A colored version of a side-by-side comparison of multiple tests can be accomplished by selecting the icon indicated below.

Increases in student performance will be indicated in green.
Decreases in student performance will be indicated in red.

Orientation
The orientation of data views can be changed by using the icons indicated below.

Some data views populate better using the vertical orientation icon on the right, and some populate using the horizontal orientation icon on the left.
Some views are more printer-friendly in PDF format using one orientation or the other. An example of this would be the Student Learning Standard Breakdown default data view.
Horizontal Orientation


Vertical Orientation