The Evaluation Process Completion Report in Strive will display all the steps and tasks of the Evaluation Process and the status of each staff member. You can use the report to easily gauge individual progress of the Evaluation Process and ensure compliance with local policies. This report is meant to act as a compliance checker; districts set the due dates for the elements in the Evaluation Process and this report tells the district if they are out of compliance. This report will only pull items that have due dates.
If you are using Due Dates and Requirement fields in the Evaluation Process, then this report works better to show in color what is past the deadline or in danger of not meeting the required due date.
To access the report, log in to Strive and select Analysis and Reports. Then, select View under Appraisal Reports.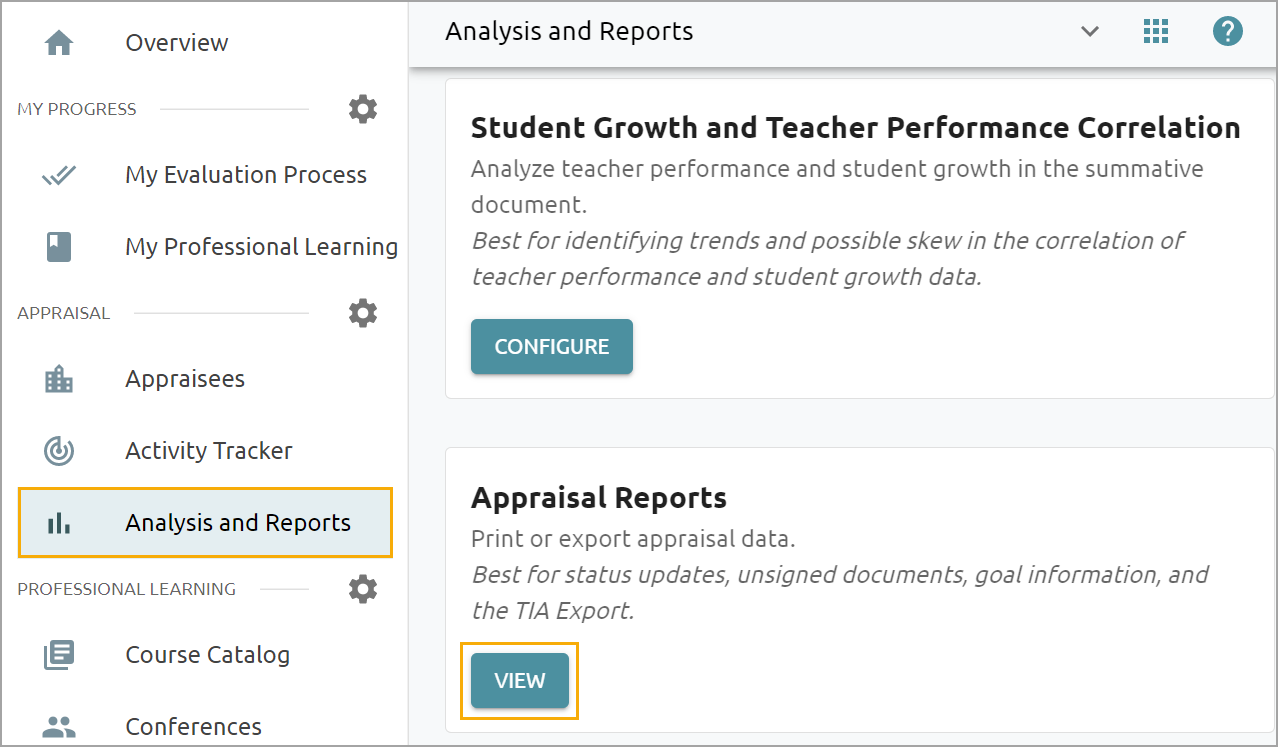 Select Evaluation Process Completion.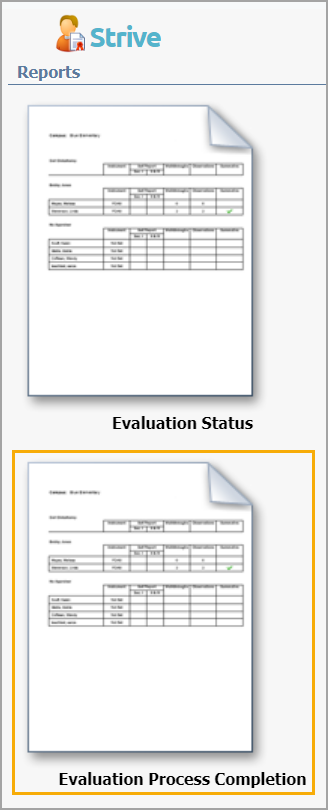 This report works in coordination with how a district has set up the Evaluation Process for an appraisee type. It takes into account each step, the number of required documents, and the due date for the end of the process.

Recommendations:
This report can be run at multiple points throughout the year to check and see if deadlines are being met.
Running the Report
Select the Appraisee/Appraisal Type.
Select a Campus or All Campuses.
Optionally select Color code the report.
The report downloads in XLS format for Excel or your spreadsheet application.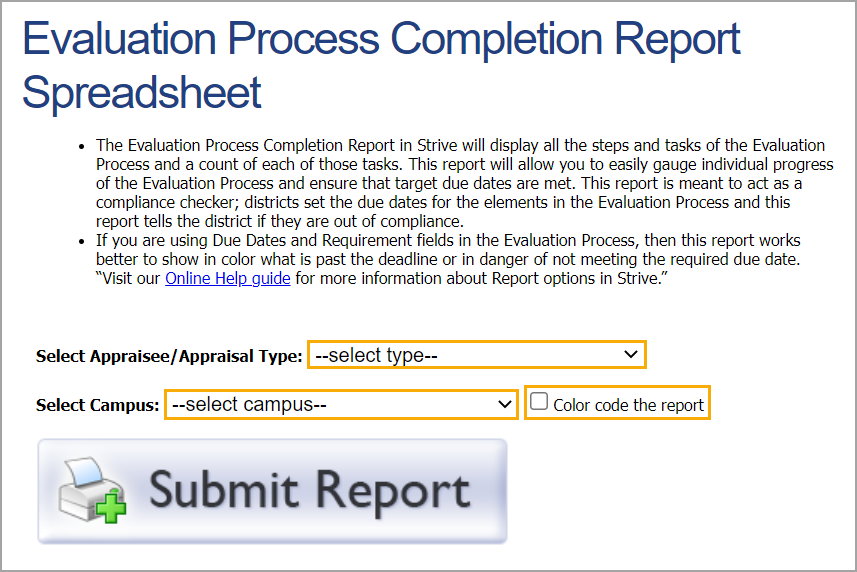 Color Coding
Yellow indicates an Evaluation Process item has two weeks before its completion due date. This serves as a 14-day warning. Red indicates an Evaluation Process item is due that day or is past due.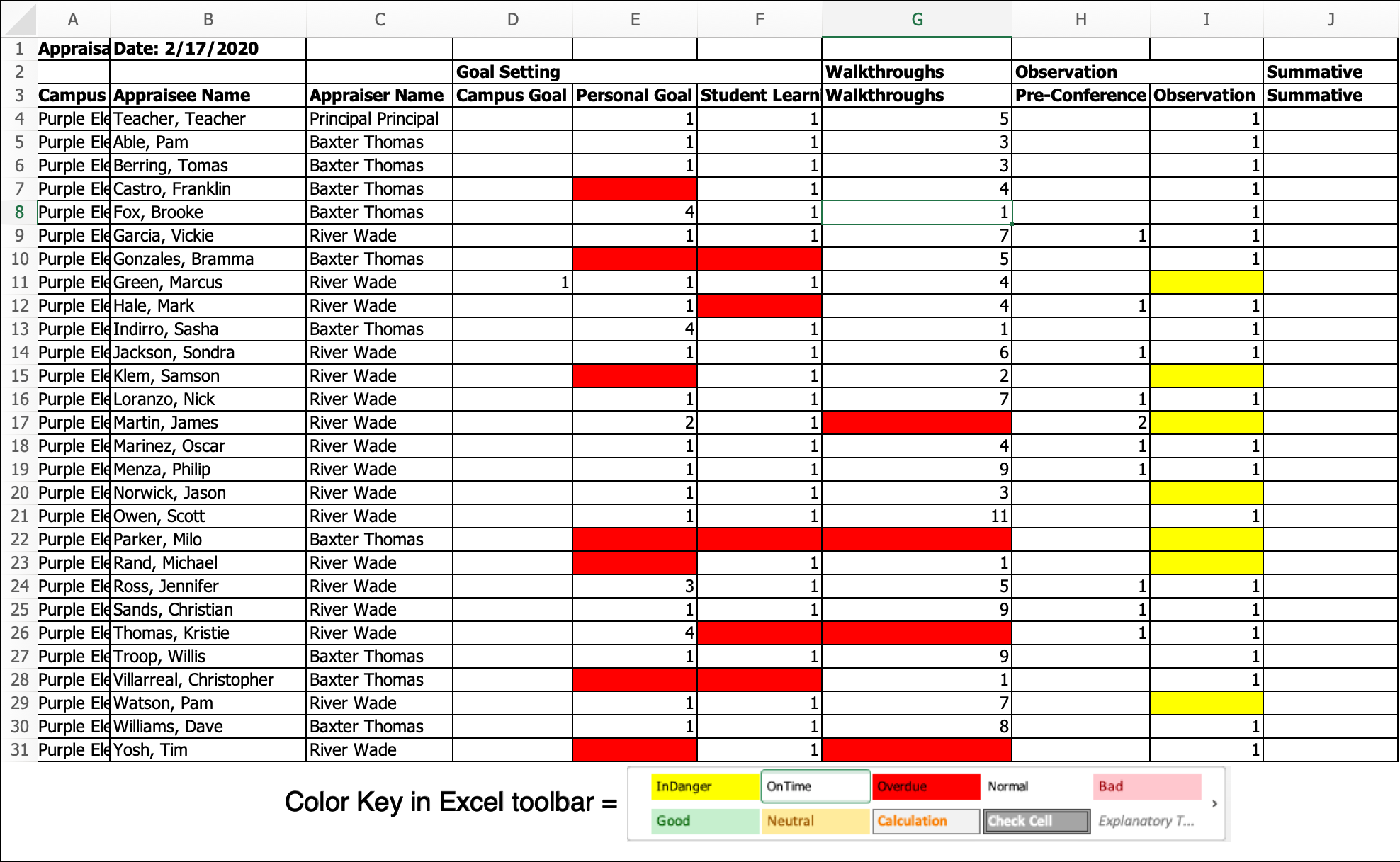 Other Requirements:
If a Goal is approved, it will count in the report. If goals were created in the Goals tab and not included in the evaluation process, these will not show in the report. The report only takes into account the Evaluation Process and the items connected to it.
If a requirement calls for six documents and is not met, the color coding applies to show that the step is either in danger (yellow) or overdue (red) in meeting compliance.
If electronic signatures are turned on, the document must be signed by both appraisee and appraiser for it to be considered completed and to appear in the report.
If electronic signatures are not turned on, the document will appear in the report after the appraiser has made the document viewable and the appraisee has viewed it.
Learn more about the reports available in Strive.