Formspace administrators can archive the documents they manage to make them non-viewable for other staff members. Archived documents are removed from the document list in the Manage tab and they cannot be edited. After a document is archived, no more reports can be run on that specific document.
If the district has enabled Personal Surveys for all staff to be able to create their own surveys (see General Options), then all users will be able to archive their own personal surveys they create.
Archive a Document:
Select the Manage tab
Select the document you wish to archive
Use the menu on the far right to change the document status from Active to Archive using the drop-down list
The following message will appear in a pop-up box: "Click OK to archive this document. Archived documents appear at the bottom of the editor tree."
Select OK.

Access an Archived Document:
To access an archived document, you must be an administrator in Formspace.
Select the Manage tab
Select Management
Select Archived Documents. (This option only appears if you have the ability to view archived documents. Learn more about roles and rights.)
Choose which documents you want to view from the drop-down list provided. This list varies based on your Formspace roles and rights.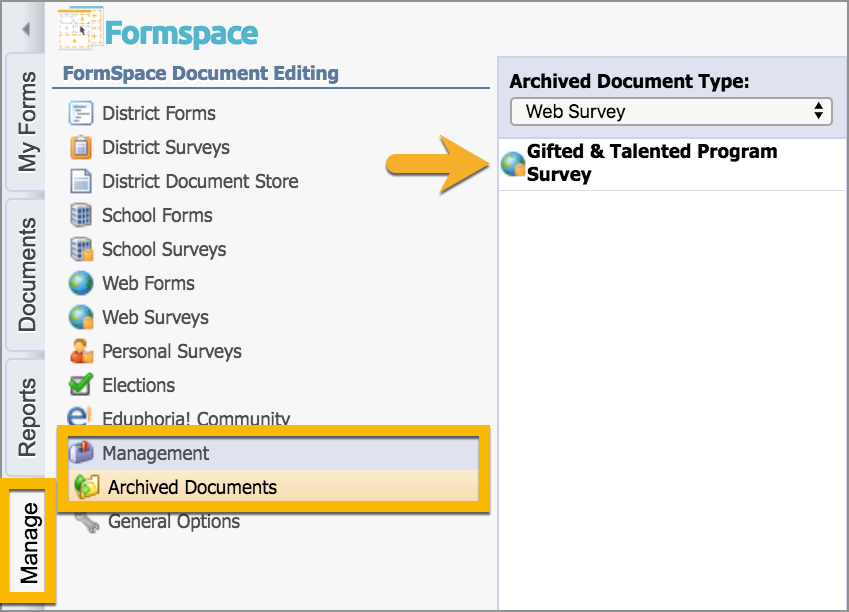 After accessing the archived document, you can do the following:
View and print the document by clicking in the View the Document button and then the print icon when the document opens in the new window.
Unarchive the document by clicking on the Unarchive Document button in the top toolbar.
Delete the document by clicking on the Delete icon.