Only users assigned the Create Local Assessment Tests right can create a new Test Type and configure Test Types. Setting up Test Types helps teachers, campus-level, and district-level users organize the assessments they create.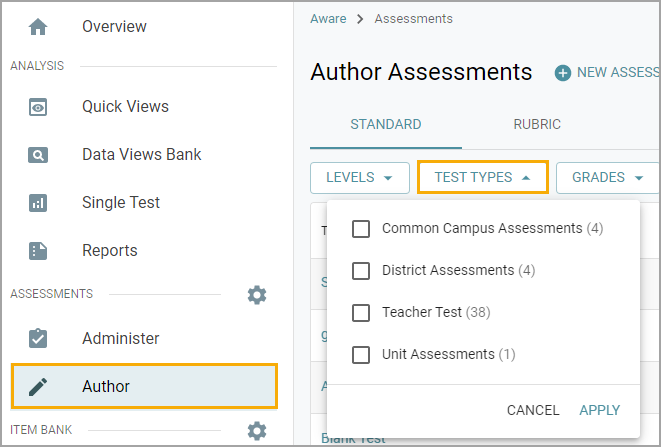 Creating a New Test Type
Step 1: Select Create New Test Type under the Assessment Settings gear.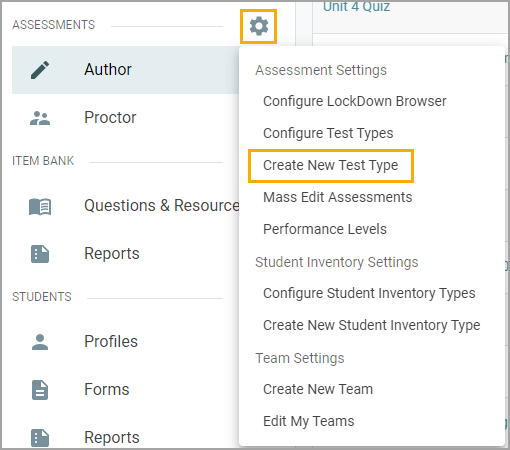 Step 2: Enter a Title for the test type and determine if the test type is one of the following:
Local Standard Test Type

Rubric Test Type

For Custom Import Tests
When ready, select Next, then Finish.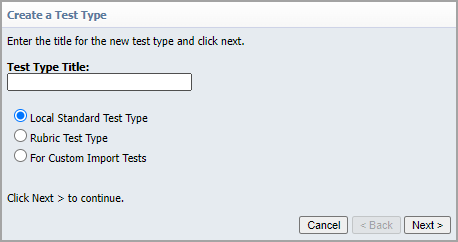 Configuring Test Types
Step 1: Select Configure Test Types under the Assessment Settings gear.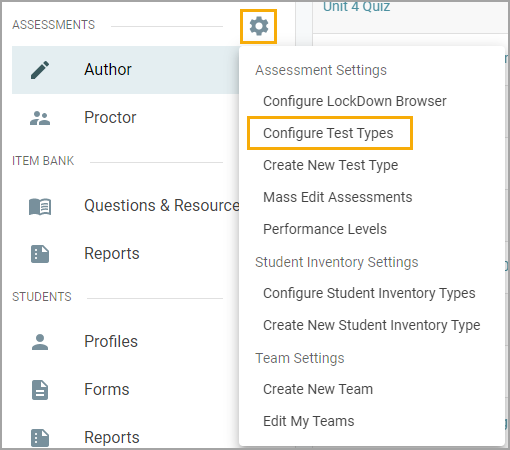 Step 2: Choose the test type from the list to open configuration options.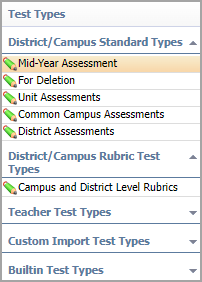 If you completed the steps to create a new test type, you will automatically land on the configuration window.
Step 3: Select the appropriate View Options for the test type, which can be any combination of the following:
Allow teachers to view this test

- Teachers will be permitted to view and analyze the test.

Show test data on the student information Tests tab

- The test will be listed on the

Tests and Scores

tab on the student profile.

Enable summarization in the Quick Views Table

- Users can examine the test in

Quick Views

under

Analysis

.

Can be used for Campus level testing (required for Team tests)

- This test type will be an option for authors of campus-level assessments, including teacher Team Tests.

Can be used for District level testing

- This test type will be an option for authors of district-level assessments.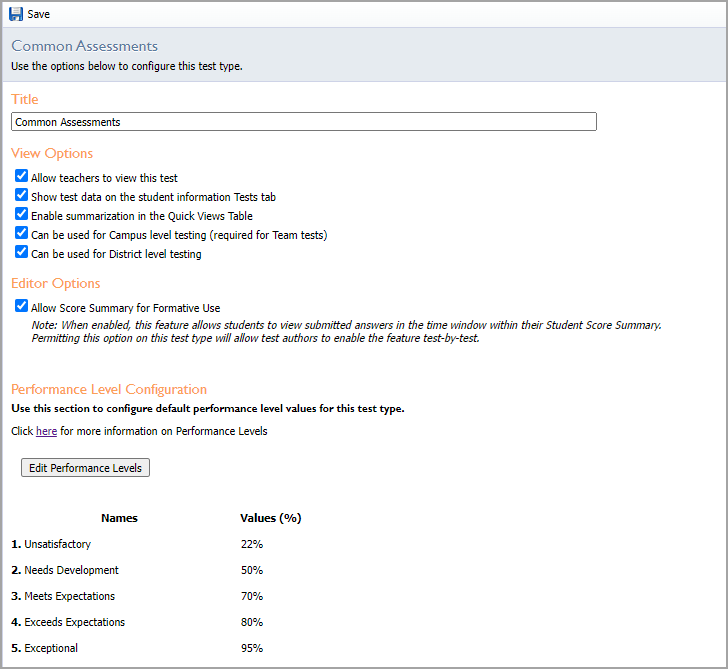 Step 4: Determine whether or not to check the box for Allow Score Summary for Formative Use under Editor Options.
When you enable this feature, students can view their submitted answers during a window of time within their Student Score Summary. Teachers will also be able to enable the feature on a test-by-test basis.
Step 5: Set default performance level values for the test type under Performance Level Configuration. When finished, Save your changes.
Managing Campus- and District-Level Test Types
District data administrators can create assessments for the district while campus data administrators can create assessments for their campus.
For test type management, it is advisable to reserve some test types only for district-level assessments and some only for campus-level assessments.
Changing a test type view option from campus-level to district-level or vice versa will create a warning if tests already exist in that test type. This allows the data administrator to choose which same level type to place the existing tests into.
After unchecking the campus-level or district-level box that contains current tests, a warning will show the number of assessments currently assigned as the affected test type and their test state. You can cancel this action or choose a test type at the same level—campus or district—to move these assessments into.