Roles and Rights Overview
Click on this link to view the Eduphoria Roles and Rights Spreadsheet. It contains the Roles, Rights and their descriptions for all Eduphoria applications. While this document is not printer-friendly, it does provide roles and rights details and can be downloaded and edited as needed.
Use the tabs at the bottom of the spreadsheet to view information about roles and rights for each application.

Users with the System Administrator role have the ability to grant roles to other users. When all users are imported the first time, there are no roles assigned by default. The majority of users will not need any roles. Directors, administrators, and principals will need additional access levels granted.
To grant user roles and rights, click on Manage Users and use the search box to find a specific user. Click on an individual user to view these tabs and access the Roles tab to grant additional access.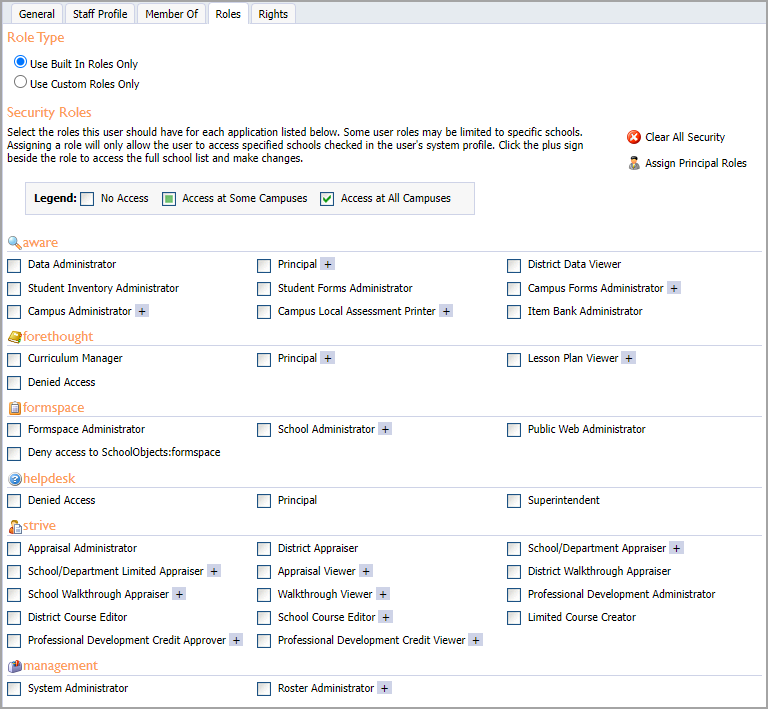 Best Practices for Roles and Rights
Only a few users should be System Administrators. One system administrator may not be enough, but 30 is too many. Users with system administrator access have the greatest level of access within Eduphoria and can grant any and all rights to themselves.
Each Role has certain Rights associated with it. When assigning a role to a user, a collection of rights will be automatically granted to the user.

Note: Some Rights are not inherited by a specific Role and need to be assigned manually. One example is the right to impersonate other users.

Do not randomly assign Rights.
Assign Roles and only edit Rights as needed.

Sometimes editing rights will remove access if you aren't careful.
You can run a report of users who were assigned specific Roles and one of specific Rights.

Checking all Roles doesn't give the user more rights.
In most cases, the first role listed in each application grants the user administrator access for that application