The Student Growth and Teacher Correlation Analysis tool allows districts to analyze the teacher performance and student growth data collected in the summative document to determine correlation.
Note: The option to 'Collect Student Growth Scores' must be enabled in the Summative template to use this tool.

Select Configure to open the tool, then adjust the filters as needed.

Table View
Select Table from the View drop down menu. The T-TESS Score and Student Growth percentages will appear in the first two columns.

Scatter Plot View
Select Scatter Plot from the View drop down menu. Each point on the scatter plot represents an appraisee, and has been placed according to the data collected in Strive. Each section of the graph has different implications for measuring skew. Skew is identified by the color gradient above the graph.
Teacher skew represents a high teacher rating but a low student growth score.

Student skew represents a high student growth score but a low teacher rating.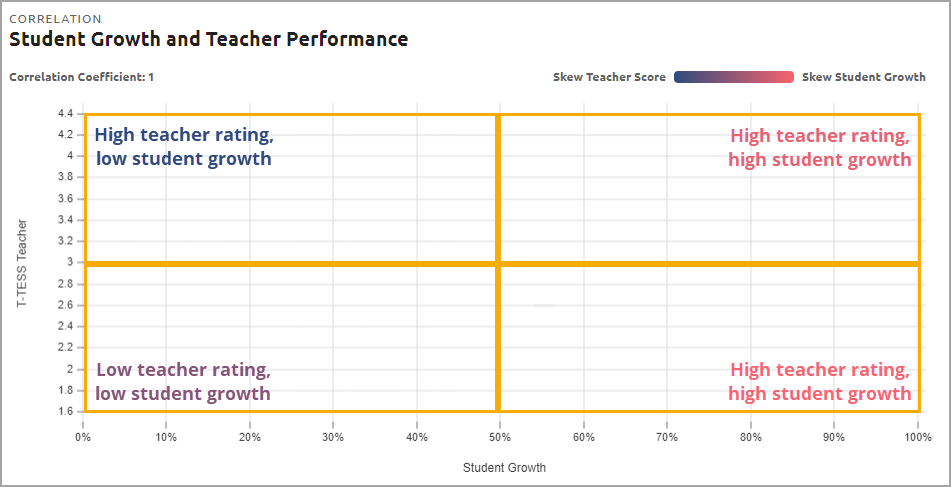 The scatter plot shows the correlation between the percentage of students meeting or exceeding growth and the teacher's overall evaluation score.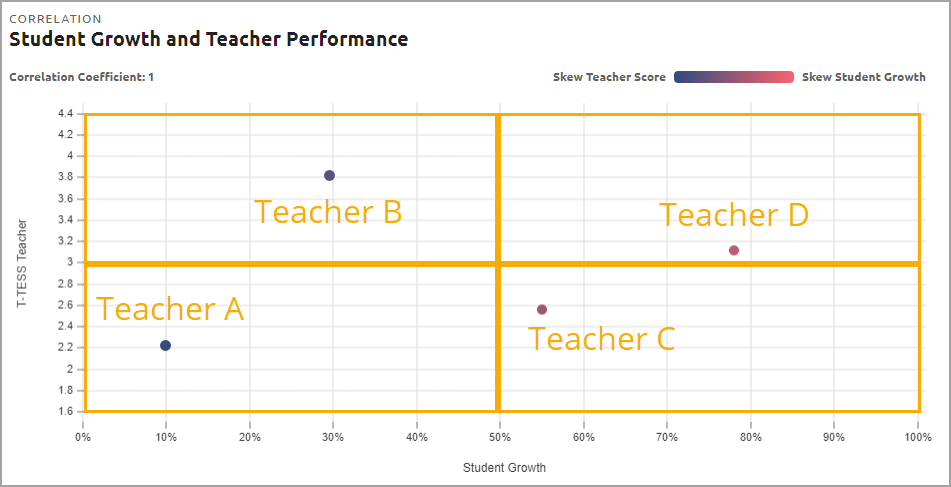 | | | |
| --- | --- | --- |
| Teacher | Student Growth Scores | T-TESS Evaluation Score |
| Teacher A | 10% of students met or exceeded growth | 2.2 |
| Teacher B | 30% of students met or exceeded growth | 3.8 |
| Teacher C | 55% of students met or exceeded growth | 2.55 |
| Teacher D | 78% of students met or exceeded growth | 3.1 |
Note: Skew graphs a corollary relationship between student growth scores and teacher evaluation scores. It is important for appraisers and appraisees to remember correlation between data sets does not automatically equal causation. There are many factors that contribute to why an average of student growth scores may be low and a T-TESS score may be high and vice versa. Data from the scatterplot, Teacher Evaluation Score panel, and Insight Cards provide educators with relevant information for further discussion.
Selecting a point on the chart will open the Evaluation Score panel. This panel shows a summary of evidence collected throughout the year, including goals, walkthroughs, observations, professional development, and uploaded evidence.

Insight Cards
The insight cards show both the teachers with the highest teacher skew and student growth skew.

Selecting a name will open a preview panel containing appraisal information.