Strive Roles and Rights
Check through your assigned roles and rights to ensure your staff has the access they need in Strive.
Note: Run a report by going to Management > Manage Users and select Print Role Report and/or Print Right Report to view the assigned roles and rights for your district in specific applications.
The Eduphoria! Roles and Rights Spreadsheet contains the roles and rights descriptions for all Eduphoria applications. Use the tabs at the bottom to access all application Roles and Rights descriptions.

The spreadsheet provides details about roles and rights for all applications. The document is not printer-friendly, however, it can be downloaded and edited as needed.
Best Practices for Roles and Rights
Eduphroia Role
School Title

Appraisal Administrator,

Professional Development Administrator

These roles give the highest level of access to Strive. They should be given with caution and typically to only a few district-level users only.
District Appraiser
Superintendent, Assistant Superintendent, Executive/Senior Directors
School/Department Appraiser
Principal, Department Lead Supervisor
School/Department Limited Appraiser
Assistant Principal, Campus-based Department Supervisor
Appraisal Viewer
District-level Supervisor
District Walkthrough Appraiser
Curriculum Coordinators, District Department Heads
School Walkthrough Appraiser
Instructional Coaches, Campus Department Heads, Lead Teachers
Walkthrough Viewer
Instructional Coaches, Campus Department Heads
District Course Editor
Professional Development Coordinators, District PD Providers
School Course Editor
Campus Principal or his/her designee
Limited Course Creator
Any district employee who instructs PD courses
Professional Development Credit Approver, Professional Development Credit Viewer
Instructional Coach, Professional Development Support
Note: Only a few users should be Appraisal or PD Administrators. Users with Appraisal or PD Administrator access have the greatest level of access within Eduphoria and can make changes to settings and configuration options in Strive.
Each Role has certain Rights associated with it. When assigning a role to a user, a collection of rights will be automatically granted to the user.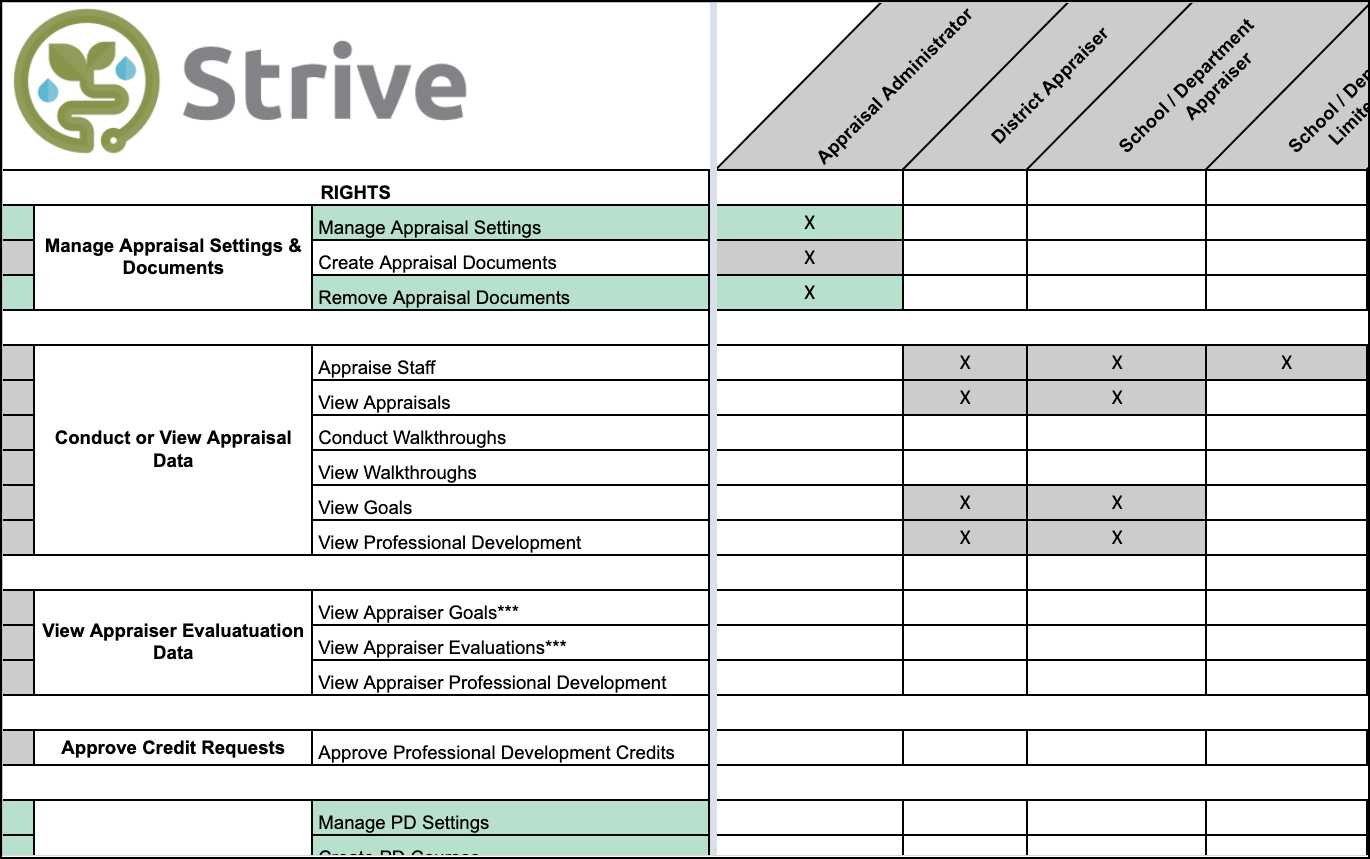 Do not randomly assign Rights.
Assign Roles and edit Rights as needed.

Checking all Roles does not give the user more rights.