Export Score Counts to Spreadsheet Report
A district can generate this report to determine how each employee scored in each of the possible matrix headings for a specific document. Texas districts can use this report to calculate the teachers who have received at least one Improvement Needed score on a document, and districts can also determine which teachers qualify for T-TESS Waiver during a specific year.
Note: If a district does not filter on any fields before generating the spreadsheet, then all evaluations created using that specific document will export to the spreadsheet.
To determine if a teacher qualifies for T-TESS Waiver Status
Select the specific T-TESS document to analyze.
Apply the date filter for ​a specific timeframe.
Generate the ​T-TESS document analysis report for the specific timeframe by clicking Print and choosing the Export Score Counts to Spreadsheet.
Paste the following formula into the P2 cell of the spreadsheet and clicked Enter/Return on your keyboard to generate results:

Note: The following formula applies if you have matrix questions containing 5 column headers/fields and the O Column Header is Improvement Needed.
=IF(O2>0,"Improvement Needed",SUM(K2:M2))

Highlight the P2 cell and grab the corner of the cell to drag it down the P column and generate the values for all other rows in the spreadsheet.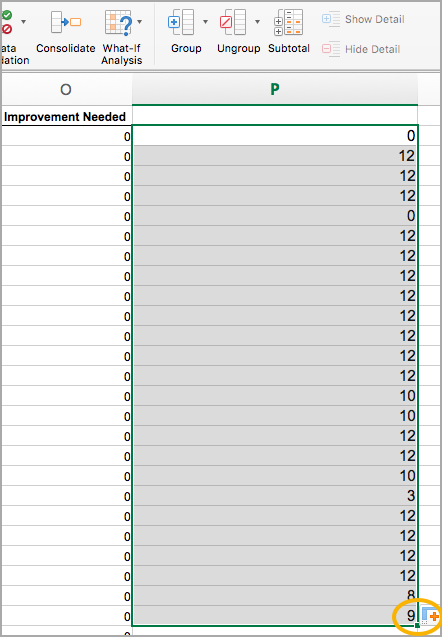 The results in the P column provide the following information:
If the teacher received 1 or more Needs Improvement selections in the document, then the P cell is marked Needs Improvement for that teacher.
The total of all Distinguished, Accomplished and Proficient selections in a document for a teacher will be totaled in the P cell at the end of each row.

A district can use this number to determine if a teacher is Proficient overall or if the teacher can qualify for wavier status in T-TESS.