Modify Course Settings
Select a course to modify under Course Management, then Courses. Use the keyword or date search to find your course.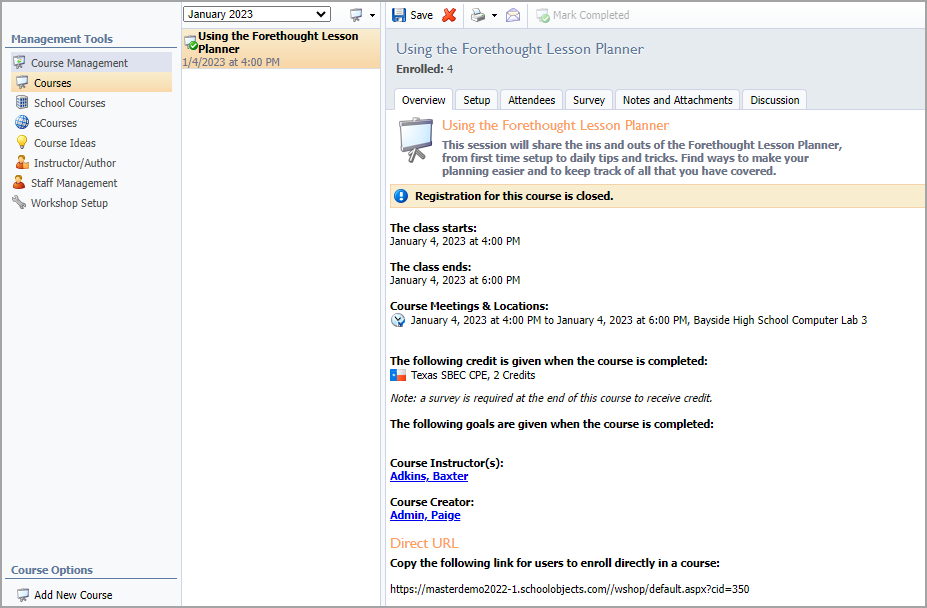 Click the Setup tab for the course to view the Course Description and Credits & Categories sections to be completed.
Course Description: This section allows you to change and enter the title & description, sessions & locations, publication date, registration date, survey enabling date, instructor(s), course manager(s), course survey, course dimensions (linked to frameworks), linked courses, and course restrictions.
Credits and Categories: This section allows you to enter the credits awarded upon completion as well as the course categories associated with the course. You can also associate campus and district goals, add stipends (if enabled).
Course Description
Title and Description: Prerequisites and/or Requirements are optional and can be listed to alert staff members of course expectations. A Direct URL is auto-generated and can be copied and pasted to allow staff members to register for a specific course.

Additional Information is optional. A course attendee will enter and save the additional course information during the registration process.

Sessions & Locations is where the start & end date/time is set with the Location and if a Substitute is required for the event. Use the Save button in the bottom section to save changes.

Publication Dates provides options for publishing dates for when the course appears on the Available Courses list; for when staff members can register or close registration; and enabling course survey access.

Instructors - Check as many instructors for the course as needed and select if they receive instructor credit for teaching the course. Also grants the instructor the ability to take attendance.

Course Managers are specific staff members who will only manage courses they create or courses they are assigned to manage. This alphabetical list is populated by giving a staff member the role of Limited Course Creator.

Course Survey allows you to select a survey for this course. You can also specify the survey requirements for the course. Requiring the survey will grant credit to staff in attendance who complete the survey. Once the course is Marked Complete, those who have not taken the survey will be denied credit.

Linked Courses allow you to link together multiple courses for registration purposes. When a course is linked to another course(s), registering for any of the courses will automatically register the staff member for all courses.

Course Restrictions allow you to specify which groups are allowed to register for this course. With no selections made, everyone will be allowed to register. You can limit the registration by school/department, position according to Eduphoria user profile, grade level, subject area, and custom group